Exploring France
Ready for exploring France?  Got off the plane, booked into a room or B&B somewhere, took out your walking shoes and ready to go?
Where to go? Let's get going!
---
Paris? Mais Oui! (But of Course!)
Of course you'll want to "do Paris", everyone does, it's part of exploring France and what would a trip to France be without the mandatory photo of you and loved ones standing in front of the Eiffel tower? Or rather, in front of one of it's legs, since it's so very big that you have be quite far away from it to be able to capture it and you in the same photo.

So, Paris......The Eiffel tower, Notre Dame cathedral, the Louvre, the Champs Elysées, the Tuileries gardens, the Opéra, the grands boulevards, la Place de la Concorde, and the list goes on. Pretty much any guide book will be of use for you here. It's been documented over and over again.
Depending on your desires, interests, time frame and available cash, you'll stay in Paris for 2, 3, 4 or more days.
Click here to open a window to a partner site for a Paris Travel Guide.

---
You must get out into the "real" France!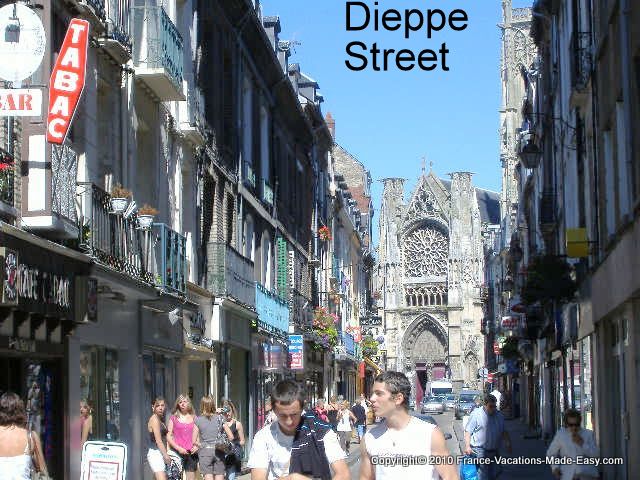 But a trip to France which only "does Paris" is like a trip the USA for a European who only goes to New York City. Cool, but truly representative of the USA? Not really. You need to get out of the city to see France.


---
Like History?
Good! You won't be able to get away from it.
Every village has it's own historical claim to fame, whether it be in the shape of a castle (chateau), ancient church, garden or museum. Sometimes it's just a really, really old Roman road, or amphitheater.
And of course there is Versailles, its history, its King (the Sun King), and its link to the French Revolution.

---
How About Some Romance?

Romance and romantic atmosphere is what this country is all about!
Setting the scene with excellent food and fabulous wines, l'amour is everywhere and, of course, it's French.
The region of Alsace is loaded with romance.  Read about my visit and why I think Alsace is so romantic!
---
There is so much to see!
But everywhere has something, so whichever region you choose to invest your time in will come up with numerous possibilities.
I'll mostly be concentrating on northern France since that's where I live and what I know best.
In Dieppe, we have a kite festival every two years. It's called the Dieppe International Kite Festival, and you can read about it here.

---
Share Morsels of
Your Own Travel Wisdom!
There are so many things to do and see in France!

Which ones are your favorites?

Are there any that you don't recommend?

Share your stories and pictures!

What Other Visitors Have Said
Click below to see favorite places from other visitors to this page...

Loire Valley Romantic Getaway

Have you been travelling trough the wine areas of Italy, Germany, maybe Spain or even California? Well you have not seen anything until you visit the magnificent …
---

Return to France Vacations Made Easy Home Page from Exploring France