Ménage à 20
Tales with a Hook
Thirty stories. Twenty writers.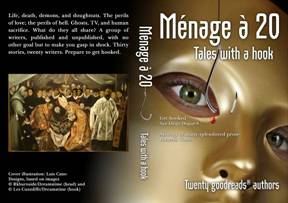 ANNOUNCING AUTHOR: DIANE CONDON-BOUTIER in Ménage à 20.
Thirty stories. Twenty writers.
---
Life, death, demons, and doughnuts. The perils of love; the perils of hell. Ghosts, TV, and human sacrifice. What do they all share? A group of writers, published and unpublished, with no other goal than to make you gasp in shock. Thirty stories, twenty writers. Prepare to get hooked.
The moderators of Goodreads.com writing group, On Fiction Writing, lead by Carlos J. Cortes, author of Perfect Circle and The Prisoner, created this anthology to promote the extraordinary talents of its members. Among them, author Diane Condon-Boutier, originally from Michigan, currently residing in France.
We have published an e-book with thirty short stories from twenty writers, to give away free from every blog and website we can muster. Our goal is to enrich the lives of 100,000 readers with snippets of rare beauty they would otherwise miss. To get the ebook, go to Ménage à 20(Twenty Goodreads Authors).
You hate reading on a screen? We can help there but, unfortunately we're broke. Our work we give free but Lulu doesn't. Still... at a few cents a story it's a steal. Below you will find two links for the paperback and hardback editions. Lulu.com will craft a physical copy for the cost of printing and shipping, no commissions or royalties for us.
Once you arrive at Ménage à 20(Twenty Goodreads Authors) you'll find lots of goodies including links to lulu.com should you want a hard copy.
Look inside for Diane's story Plain Donuts.
Plain Donuts is the product of the author's indecision when faced with the display of decadence at any American donut shop. She isn't the only one, but sometimes there's a good reason for it. Some of us have a wider agenda when it comes to consuming sugar.
Contact Diane at Contact Us.
Read Diane's Goodreads Profile here.

---
Return to France Vacations Made Easy Home Page from Ménage à 20