My Bed & Breakfast
and 
Tours that I offer
I'm booking tours for 2023!! 
Please reach out to me to request more information. 
When you leave your contact info, please ensure your email address is correct.   
Le Clos du Hérisson
Try my bed and breakfast! After browsing through this website, I hope you've been inspired enough to want to give a trip to France a try.
If you've been thinking about it, now's the opportune time to put your fears aside and come visit us!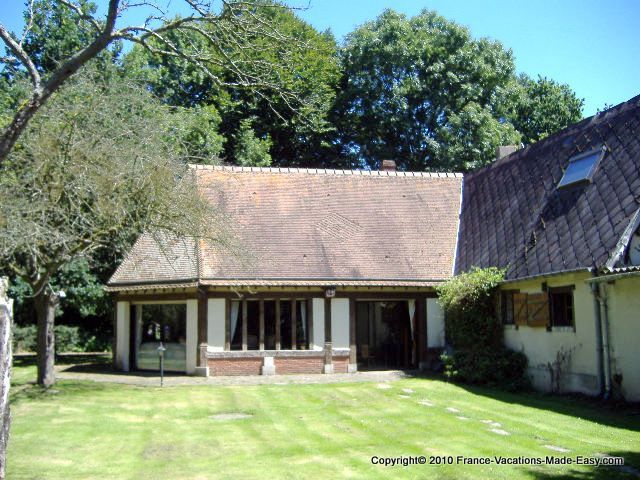 As an American who has lived and worked in France for almost 30 years, since 1983, I've decided to open my home as a bed and breakfast to other Americans who'd like to visit France but who have never wanted to deal with the complications that a trip to a foreign country could pose.
Here's an innovative way to visit Normandy with absolutely no stress, no trains to catch, no difficult conversations with people who don't speak English.
In short, a how-to-enjoy-the best-trip with no troubles attached.

---
My Wonderful French House
My house dates from the 17th century. It's not castle or a manor house, but was once part of a large working farm. We are set out in the countryside in a rural area about 12 km south of Dieppe.
Read my story about Le Clos du Hérisson here.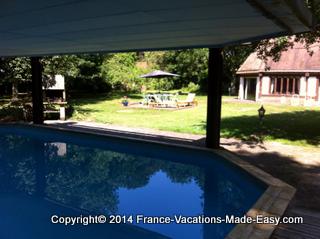 We have a large tree filled yard with a heated, in-ground pool, open for your use whenever you choose.  The pool has a special cover that lifts straight up, allowing use of the pool in all kinds of weather!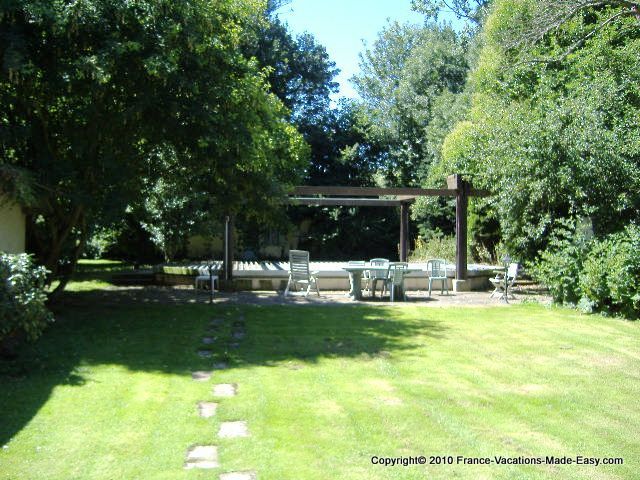 We also have some exercise equipment available in a separate out building to use at your own risk! Sometimes vacations and exercise don't mix well!

The old carriage house has just been completely remodeled and has two rooms available that will sleep 4 adults for your personalized trip to Normandy. Check out the pictures of the newly remodeled carriage house here.

The bed and breakfast is comprised of a bedroom area, bathroom with shower and a small kitchenette area with coffee maker toaster, sink, refrigerator and induction stove top.

The entire guest house with an additional bedroom and bathroom with shower upstairs is also available, housing a total of 4 adults.
At this time we cannot cater to young children or pets.

And we are not equipped to accommodate handicapped guests.

---
My Services
I'm available to be your guide/chauffeur/translator.  Please contact me for rates and availability.
---
Day Trip Examples
I have several optional day trips to offer to you. They each vary in price depending on the length of the drive involved and various road tolls and parking fees.
Click here to read about the many day trips available!

---
Let's Not Forget About the Food!
There are many options for your dining needs at my bed and breakfast, other than the meals described in the excursion options.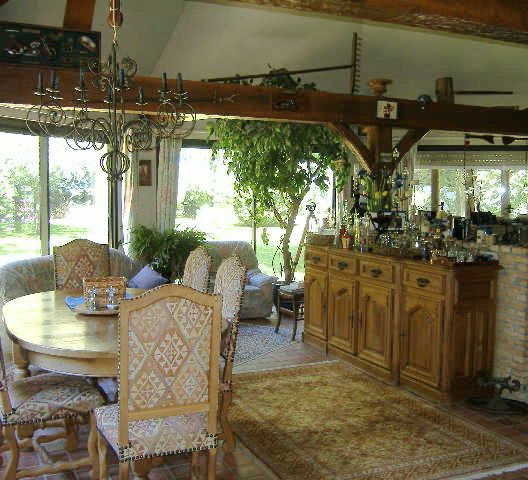 At home, you can enjoy a sit down family style dinner with us, including a main course, cheese and salad course, dessert, and a half bottle of wine.
You may choose to get some recipe ideas in a mini intro to French cuisine, any or every time by popping into the kitchen during meal prep times. My kitchen is never off limits to anyone staying here, it being the heart of the house.
Or you can sit back and relax. A before dinner cocktail with finger food, named an "aperitif" in French could be available or a post dinner brandy type "digestif".
A sample main dish we often make for guests is "pork roast medaillions au jus served with fresh steamed local vegetables".
Lunches are available at home as well, with one of our staples being different types of salads dressed with different vegetables and ham, tuna, or "lardons" and grilled goat cheese or gruyere, or seafood quiche with side salad, or homemade soups for colder days (not likely in may, unless requested in advance) served with garlic bread. 
However, all of our food being prepared fresh, we will consult you before buying any food, so we can take into consideration your personal likes and dislikes. If either of you hates mushrooms for example, I won't include them anywhere. Of if you prefer red meat to fish, we'll take that into consideration.
Everything is available and food in France is of the finest quality.
If you choose to exclusively dine out, we can accompany you to whatever type of restaurant you choose, in order to translate the menu and help secure the best possible dining experience.
If you would rather dine out but in "tête-à-tête", we could procure the menu in advance for you, order in advance for you and then drop you off, for an intimate evening alone.
It's up to you. Either way, arrangements will be made once you get here.

---
Hope to See You Soon!
So, take the time to look over this large amount of information about my bed and breakfast. Please contact me as soon as you wish to start planning your holiday in France.
This can be the trip of a lifetime! I'm looking forward to hearing from you and working out the best France vacation for you!

---

Let me recommend a source for Affordable Fine French Furniture in France. If you live in the south of France and require beautiful French furniture, please consider Meubles Magnifiques!

---
Return to France Vacations Made Easy from My Bed and Breakfast