Fun and Exciting Day Trips
I have several optional day trips to offer to you. They each vary in price, depending on the length of the drive involved and various road tolls and parking fees.
---
Rouen
Rouen is an all day trip, leaving home around 9:30 am returning around 6pm. It's about a 45 minute drive. It's basically a walking tour of the medieval city with your choice of two of the following museums:
Joan of Arc museum - a wax museum relating her life and subsequent condemnation in Rouen.
The fine arts museum with a collection of paintings of the cathedral by Monet.
The Secq des Tournelles museum - contains ironworks of all types dating from the middle ages up to today, with a large selection of medical and dental tools, as well as a chastity cage.
The ceramics museum - Rouen was famous for its pottery manufacturers. The museum covers earthenware from all time periods.
The Gros Horloge clock tower - involves a rather lot of steps but the view is worth it and it is actually a renaissance astronomical clock.
The antiquities museum - lots of stoneworks and statuary from the medieval period. There are some Egyptial mummies, especially an unusual cat sarcophagus.
In addition to any or none of these, as you choose, we will visit the cathedral where Richard the Lionheart's heart is buried, as well as many different architectural/historical places of interest.
Lunch and entrance fees are additional. Museum entrance fees vary between €2.30 to €7. The petrol and parking fees for the day run about €25. Depending on what you choose for lunch, sandwiches while walking, or a sit down café style lunch - you should plan on €6 to €20 per person.
All of this can be decided en route when you get here, no reservations are necessary.
Since there is so very much to see and do in Rouen, it is quite possible to do a return visit on a second day.
---
Dieppe
A good time to plan for this day trip is from around 10am to 6pm. We can do any of the below:
Visit the castle which houses an art and ivory carving collection in a 15th century stone castle overlooking the beach.
Lunch in a local fisherman's café, with wonderful fresh fish dishes or a crèperie as you choose - plan on €15-20 per person.
Scenic tour and photo opportunities.
Shopping district.
Beach tour and WWII invasion site of the 1942 raid.
Scenic tour towards home.
Petrol and parking fees will be €10.
---
Eu, Mers les Bains, Miromesnil
The best times to plan on for this day trip are from 9:30am to 6:30pm. It's about a 45 minute drive. Things to do include:
Castle at Eu residence of the last king of France-Louis Philippe. It's a €4 entrance fee. This is a 18th century brick palace.
Collegiale church with a visit to the crypt.
Lunch in a café or crèpe restaurant as you choose - same prices as Dieppe.
Scenic return trip via Mers les Bains and Le Tréport.
Castle of Miromesnil - with a €6.50 entrance fee. This is an 18th century home where Guy de Maupassnt was born.
Petrol and parking will be €25.
---
Etretât/Fécamp
You can plan on this day trip being from 9:30am to 7pm. It's an hour and 15 minute drive. The things to do here are:
The cliff formation from scenic overlook.
Shopping in the scenic old town with beach.
Lunch in café or crèpe restaurant - plan on the same prices as Dieppe.
Fécamp, the Benedictine Abbey and distillery with an entrance fee of €6.50.
---
Veules les Roses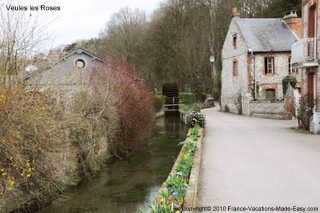 This is just a half day trip, so plan on 2pm to 7pm. It's about a 30 minute drive.
It's a scenic walking tour of beach side charming village, site of the shortest river in France.
It includes shopping, photos and Coffee/tea with pastry in a tearoom for around €10 per person.
Petrol and parking will be €15.
---
Honfleur
Plan on approximately 9:30am to 7pm for this day trip. It's a bit longer drive - about an hour and a half.
This is a walking tour of the picturesque port that was much favored by the impressionist painters.
Lunch will be in bistro type restaurant - €15-€30 depending on your choices.
It will also include visits to the churches and historic district.
Petrol, parking and bridge tolls will be €50.
---
Arques La bataille/ Longueville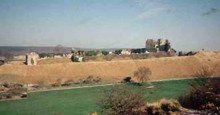 This is another half day trip, so plan on 2pm to 6pm. It's only about a 20 minute drive.
These are two medieval castle ruins which involve a little rough terrain walking but the ruins are spectacular.
Great photo opportunities!
Petrol will be €10.
---
Martainville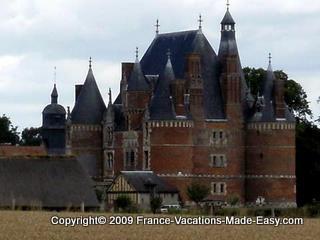 Here's another half day trip so about 2pm to 7pm. However, it's about a one hour drive.
This is a 16th century castle with a fine antique furniture and clothing collection. Click here to go to the page on the castle at Martainville.
The entrance fee is €3 a person.
Petrol will be €15.
---
Rambures/St Valery sur Somme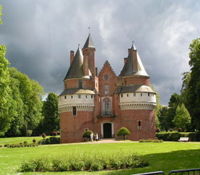 For this day trip, plan on 9:30am to 7pm. This is about an hour and a half drive.
Visit the port of St Valery, from where William the Conqueror left for the battle of Hastings in 1066. This will include a walking tour and lunch in a café. You can plan on about the same prices as Dieppe.
In Rambures, we will visit a 16th century, furnished military fortress. The entrance fee is €7 a person. And there is a park and rose gardens to visit also.
Petrol and parking will be €30.
---
Giverny, Claude Monet's home and gardens
This one is another full day trip. Plan on 9:30am to 7pm with a two hour drive.
Lunch can be at the on-site restaurant, either take away sandwiches for €6 or sit down bistro style lunch for €15 per person.
Here, there are fabulous gardens with the infamous lily pond and Japanese bridge. There are incredible flower photos possible.
As with the Rouen visits, we could plan on dinner in a restaurant in Rouen, on the way home. The different types and categories are endless and this can be decided once you arrive in France.
---
Paris - Not Really A Day Trip
I suggest spending your first and last nights in France in Paris.
There are many hotels to choose from. I know of several where we have stayed personally. It depends on the category of hotel you choose. The prices of those we use vary from €100 with an additional €10 per person for breakfast for a clean but smallish room, well located, two star hotel, to €200 per room with an additional €18 for breakfast per person for a three star hotel during the month of May 2009.
There are of course more costly hotels depending on the category that you wish to enjoy. I can check into whichever sort of hotel you would prefer and handle any necessary reservations.
Please keep in mind that my room fees are not included during any hotel stays. However my food is at my own expense always.
During the first afternoon in Paris, I suggest the following - exchange any cash you choose to, visit Montmartre and have lunch there. Check into the hotel. Visit Notre Dame or the Eiffel Tower. Take a nap before dinner on the Champs Elysées.
The next day, hit the Louvre, do the Opera visit, wander in the streets and Tuileries gardens and shop/sightsee. Buy Paris souvenirs or gifts for friends with a "France" theme.
The day before your leave to go back home, we can plan an additional afternoon in Paris or visit the palace of Versailles before heading out towards Charles de Gaulle for an overnight stay in Paris. You can stay closer to the airport if you have an early flight out, or back into downtown Paris if you have an afternoon flight.
The travel expenses from the airport to Paris on your first night and the 2 and a half hour car trip back to Dieppe subsequently, as well as roads tolls and parking fees is €100. This will be the same for your return trip into Paris and back out to the airport on the day you leave.
---
Loire River Valley - Another Multi-Day Trip
Another option is a multi-day trip the Loire River Valley.
This is where the largest concentration of royal hunting castles from the renaissance period is, and where there are some great possibilities to do some wine-tasting in a unique setting.
I would suggest an overnight stay in one of the wonderful bed and breakfasts in the valley, allowing lots of time to do castle tours as well as wine tastings. I know a really unusual vineyard with grotto wine tasting rooms that produces a really nice white wine.
Depending on what you choose to do, a bed and breakfast in this area during the month of May runs about €100.
Castles we could visit are Chambord, Chenonceau, Cheverny, Amboise, Ussé and the list is even longer. The entrance fees vary from €8 to €12 per person. You have to count on at least 2 hours per visit and an hour driving time between sites.
Lunches and dinners are en route at local restaurants and will run about the same as all the other side trip prices, dinners being about twice as much as lunches.
---
England - And Yes - Another Multi-Day Trip
Yet another optional 2 day trip is a visit via the ferry to England.
We can leave Dieppe by boat, a 4 hour trip (on a mini cruise ship complete with cabins, should the crossing become rough, cafeteria and bar), around 8am.
We would arrive in Newhaven, East Sussex around 11:30am local time, do a quick tour of Newhaven, and visit Lewis, a charming town with lots of shops and antiques dealers, local brewery, castle ruins, and very nice pubs.
We can eat either there or in a country pub called The Juggs, dating from the 14th century.

We can travel through the countryside seeing the infamous "long man" hill side carving, visit Alfriston, another very charming little smugglers' village. And work our way up to Hever castle, the spectacular 15th century home of Anne Boelyn, wife to Henry VIII, mother to Elizabeth I. Entrance fees are £11.50 for the house and gardens, but are well worth the money.
Dinner will be in a local pub, they all have hearty good local English food. And you don't have to order Haggis or blood pudding or anything strange like that!
We would spend the night in a hotel - we like the Travel Inn for its good value/price ratio. Rooms are about £60 per night. Breakfast is additional and runs about £8 per person for a full English breakfast.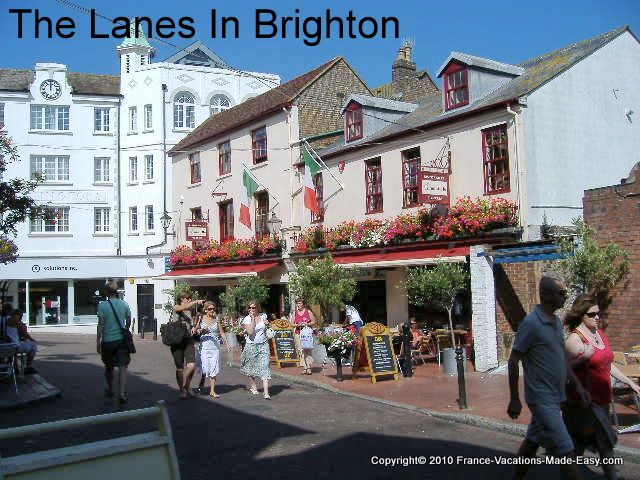 The second day we would drive back down to the coast and visit Brighton, with its historic district called "The Lanes" and the Brighton pavilion, a mauresque folly of a palace built by one of the future king Georges when he was prince regent.
Lunch in town would be in one of the pubs before catching the 6pm ferry back to Dieppe.
We would arrival back home about 12am. The ferry costs about €30 per person, and the transportation costs for this two day trip with parking and petrol is €100.
Food in pubs ranges about £10 to £15 per person and a pint of beer is about £2 - warmish, flat, local brews to be sure but worth a taste. That's what England is all about.
This trip involves lots of lovely scenery, and hilly, woodsy countryside. Strangely enough, it's very different from France, in spite of the close geographical position. The general atmosphere is very different as well, with the architecture and structure of the towns quite unlike France, so it's a good first trip to England for just a small taste.
---
Just Brighton, England - Just A Day!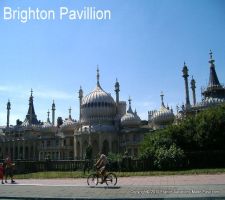 It is also possible to do a very long one day trip to England and just hit the Brighton day outlined in the preceding description.
You leave Dieppe at 8am but take the late ferry back home at 11pm English time with an arrival back in Dieppe at about 5:30am the next morning. It's a tougher day trip time-wise but do-able.
The travel expenses would be cut in half, €50, except that the ferry crossing ticket still remains about €30 per person whether you stay for 1 or 2 days. You'll definitely need a cabin for the return voyage home and they run about £30.
---
That about covers the options for day trips and short trips, but if you've seen something you'd like to do in the northern Normandy area, let me know and we can check on it.
As you can tell, there are a variety of fun things to do while here. We can keep very busy, or we can have a very leisurely vacation planned for you!
Return to My Bed and Breakfast from Day Trips
Return to France Vacations Made Easy Home Page