Lodging??
Where to Sleep?
Let Us Help!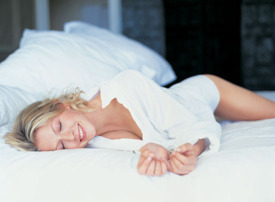 This page will help you choose the lodging arrangements that suit you the best and what to expect from the different options available be it a hotel, B&B, rental apartment or villa.
France is a wonderfully civilized country which boasts a large selection of options for your well-needed rest after a long day exploring.
You can enjoy a unique room in a traditional hotel or a more generic sort in a chain hotel.
---
There are bed and breakfast type lodgings in most of the tourist areas. This is still a relatively new concept in France, brought over from the UK.
More common in France is the "gite" (click here to open a new window to a partner site) which is like a small apartment or tiny house which you rent for a week or more bringing your own towels, sheets etc. There is always a minimum stay for a "gite" rental.
Rental apartments, slightly larger than "gites" are becoming increasingly popular for family holidays. There are lots of websites which deal with these rentals. Also a minimum stay required.
Villas are also available for rent under this same system. Great for several families wanting to stay together.

---
For those of you whose coin purses are a little on the hefty side, there are quite a few exceptional luxury hotels, the most famous of which are registered with the "Relais et Chateaux" catalog. The best of the best, this catalog lists a worldwide selection of hotels in castles and fabulous buildings, the largest concentration of which are located in France. Very pricey, but an unforgettable treat.

---
There are also quite a few resorts, one of the most well known is operated by "Club Med". There are quite a few of these package deal places located in the ski areas of the Alps and a few along the Mediterranean sea. Nice for a break if you enjoy sports and aren't too awfully interested in sight-seeing, because all excursions into the local areas are on offer for an additional fee, and involve a tour bus.

---
Discount lodging is available also. First in the form of one star hotels, then alternately in youth hostels.
Most every city of 50000 inhabitants or more has a youth hostel. This is a dormitory, sometimes men's separated from the women's. Locker room type communal shower rooms and toilets. Cheap, and filled with backpacking students.

---
A veritable buffet of choices, France boasts so many types of accomodations it may be difficult for you to choose. Pick a category and read on for extra information regarding each type.

---
Share Your Tips on Lodging in France!
Do you have any great tips to share?

Do you have any do's and don'ts pertaining to hotels, bed and breakfasts or other lodging options?

Give us your tips here!




---