Traditional Hotels - Tradition!
(Cue the "Fiddler on the Roof" Music!)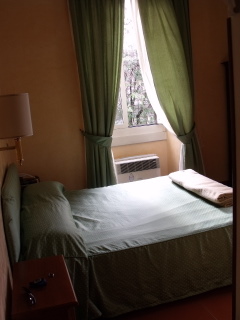 There are lots of traditional hotels, and I mean traditional in the true sense of the word tradition, not the generic American roadside stop over.
A good portion of these traditional hotels are smallish with under 30 rooms and are housed in ancient buildings dating at the very least over 150 years. Thus, the individual rooms are most often graced with a unique layout. They are not cookie cutter identical. Quite often they are furnished with unusual wooden furniture, real wood mind you not pressed laminate board. Enjoying their unique décor is one of my favorite hobbies.
Do you have a favorite hotel to rave about? Tell about it here.
What a wonderful moment, inserting the key, usually sporting an enormously hefty key chain, and opening the door to an extraordinary, yet rather small, room the likes of which you've never seen in the Americas! Decorative wallpapers in a myriad of colors, bathroom tiles of different shapes and hues, bedcoverings of various designs! There is an element of different in every corner of every room.
Go check out your friends' rooms right away, chances are theirs will be completely different in every aspect from yours. It's great fun to anticipate who'll draw what room as your trip progresses.
---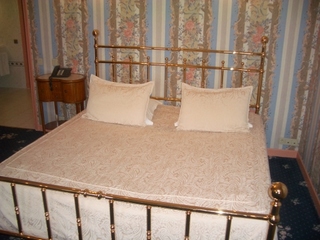 You can most times choose the size and quantity of the beds you'd prefer: a twin room has two twin beds (une chambre 2 lits), a double room contains one full size bed (une chambre double), for three people you can sometimes get a triple room with three single beds (une chambre triple) or a family room with one full size bed and one twin (une chambre familiale), but these last are rather rare.
It is somewhat difficult to find a room with a queen sized bed. Again be forewarned, in France a queen is called a king, not historically mind you, just in beds. Well, actually in bed sizes, as it were. I'm afraid I'd end up locked away in the Bastille, if I were to cast a shadow over any of the illustriously lusty regents of yore. Uhumm.....back to business.
You might also keep in mind that a suite is a double room with an additional sitting room, and not a room with two bedrooms each with a full size bed. Adjoining rooms also are pretty rare. The times I've asked for them, I was kindly given two rooms next to each other, contiguous, but with no inside doors hooking them together.
The best option when booking is to decide in advance who's staying with whom and how are you hoping to sleep, together or separately, and be very clear about it when you book.
The two double bed American norm is found only, yes, you guessed it, in North America.
---
You also must ask in advance about the bathing facilities which are also not standard, especially in those charming old hotels.
Most hotel rooms are now referred to as en suite rooms, which is a term used in the United Kingdom to specify a bathroom with either tub or shower, sink and a loo or toilet. If you prefer a shower to a bath, ask in advance. Some bathtubs do not have shower curtains or tiling on the walls.
Alas, the days of running down the hall in your jammies to wash up or use the facilities are almost all gone. I do insist on the almost here, because, depending on the number of stars you choose in your hotel rating, you can still be surprised at renting a room with just a bed.
The one star affairs are quite likely to have one bathroom and one WC or water closet (read: toilet in a cupboard) for an entire floor of rooms.
Once again these are exceptional and you'd have to be in quite a jam to book one on purpose. However, accidents can happen and if you find a really, really good deal during the peak summer season in a large city, for example - Paris, then beware, beware, beware! Of course you already know that so, let's continue.
---
Your breakfast - ask in advance what time it is served and whether or not it is included in the price of your room. This varies with each hotel, so you must not forget to ask.
Your hotel will have a breakfast room. It's usually quite pleasant. There will be someone there to ask you what you want to drink. Meaning, expresso (un café), tea (thé), hot chocolate (un chocolat chaud).
Most likely, you'll want a café au lait, which is expresso in hot milk. Or un grand crème, which amounts to more diluted coffee, less milk. The coffee in France is notoriously strong enough to help people drive frantically around town in heavy traffic. You can always ask for a pot of hot water (un peu d'eau chaude) to dilute your beverage to an acceptable strength.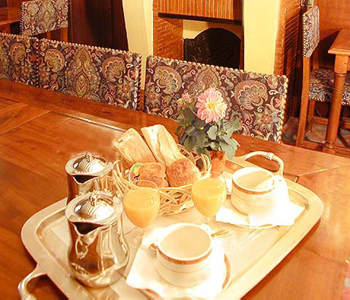 The rest of your choices are most often on display at the breakfast buffet. A continental breakfast is what's the usual offering. It consists of orange juice, croissants, pains au chocolat, baguette, yogurt, butter, and jams.
Try everything, especially the croissants and pains au chocolat or any little pastry type on offer. They're very tasty. Invariably fresh, the orange juice is delicious. Sometimes, but not always, there are little plates of cold ham and sliced cheeses as well as soft or hard boiled eggs.
Pancakes do not exist in France, nor does French toast, oddly enough....
---
Have a Favorite Hotel in France? Tell About It!
Do you have a great story about a hotel in France? Tell about it here!
Return to Lodging from Traditional Hotels
Return to France Vacations Made Easy Home Page