Bed and Breakfast
Options in France
If, during your stay in France, you have the choice of staying in a bed and breakfast, do so. It's a great opportunity to see the inside of a French family home, something most tourists don't get to do.
Most often located near areas of scenic or historical interest, B&Bs still manage to get you off the beaten path, especially if you chose one with just one or two guest rooms.
---
My Own B&B 
Le Clos du Herrison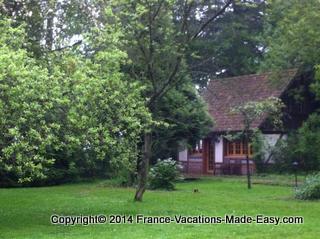 I'll take the opportunity to toot my own horn at this point. My home boasts two rooms open for rental as a B&B. For more information please click here.
---
A family business
It's worth mentioning that bed and breakfasts have become a business for many families. Sometimes, it's the only family income. These bed and breakfasts are really inns in disguise.
As soon as there are 4 or more rooms, it's closer to a hotel than a family home. Thus, the bigger the place, the less contact you'll have with the family. Depending on what you're looking for, this is a good or bad thing.
The smaller the place, the more you'll be received as if you were a friend of the family, come to stay for a night or two. The larger the place, the more contact you'll have with other travelers such as yourselves.

---
Breakfast (at a Bed and Breakfast, of course!)
Breakfast is obviously included at bed and breakfasts. It's in the name!
It will be served at a specific time if there are other guests. If you are the only guests you can usually request a time, as long as it's not unusually early, like 5am, or unusually late, like noon. The time frame is most often somewhere between 7 and 10am. And it will be a continental breakfast.
You'll be offered coffee, with or without hot milk, tea, or hot chocolate. Fruit juices, cereals, and french bread-baguette, and sometimes small pastry bread, like pain au chocolat, croissants, or brioche, with butter and jam.
If you see "fromage blanc", don't be surprised. It isn't really what you would expect of cheese. It's halfway between yogurt and lumpless cottage cheese. It's served unsweetened. You can mix in a spoonful of jam or a spoonful of sugar, and taste it. It's a good source of protein.

---
Other meal options
Some bed and breakfasts also offer a family style dinner. You must order this when you book your room. It's an additional cost and not a mandatory thing.
You could instead go to a local restaurant and just come back to go to bed.
If you don't have specific plans, try the in house meal.
This means you could be eating with a bunch of other people at a specified time, and you do not get to choose what's on your plate. In general, unless you have a specific food allergy, you should eat up and enjoy it.
Food is super important to the French, so they aren't going to serve you nasty stuff. They're too proud of their cooking abilities.
Also, it's worth keeping in mind that if somebody feels they're a good enough cook to present food to the public and expect to be paid for this service, they usually are up to the task. Since the cook also knows that not everybody likes cow's tongue, you most likely won't have to find a polite way to express your personal doubts about it either.
You'll be eating things like pork roast, chicken served a thousand different ways, or fish in a myriad of sauces, with vegetables.
You'll usually get an entrée, main dish, cheese and dessert. All of these courses will be served with wine, and coffee after dinner.
The meal will last over an hour and conversation will flow along with the wine. It's like being invited to a dinner party, except you don't have to offer to help clear the table. It will be a chance for the locals to try out their English speaking skills on you, and in reverse, use a French word or two just to keep everybody happy.
Use this relaxed down time to glean valuable insiders tips about what to do and see in the area. They'll know when the open air market is, where to park, and what times to visit the castle. It should be fun.
Personally I'm a walking encyclopedia of historical trivia for the Normandy area and enjoy sharing that with my guests. If you'd like to learn more about staying with me in Normandy, click here.

---
Bathrooms
Almost all bed and breakfasts have a bathroom reserved for the use of the guests. You won't have to jostle with the family kids as they get ready for school.
You might have to contend with other guests using the bathroom, since not all rooms come with a private bath. In fact most do not, so you'll have to take turns in the bathroom.
Do read the article entitled bathrooms and what to expect, there's some valuable information in there regarding the use of a "french" bathroom.
As mentioned in the kind of indiscreet "water closet" article, the actual toilet is most often located in a separate tiny room. So the holdup in the bathroom is usually shortened. Still read up on their use. The flush mechanisms are very different from the ones in the USA.
One small tip, you might want to pack a pair of slippers or flipflops because quite a few French homes have tile floors.
Almost all bathrooms and W.C.s have tile floors, just for hygene's sake. They can be very cold on bare feet. Lots of bedrooms on upper floors have hardwood floors.
Lightweight flips are easy to pack and will keep your feet clean and happy. Plus they can always do double duty if you're heading to the beach or an indoor pool/spa anywhere.

---
Good Manners, Please!
It should go without saying that good manners are a must.
Even if you are paying to stay, leaving a swamp in the bathroom, or an unmentionable mess in the toilet is obviously not done. No towel or ashtray filching. In fact, most homes will only allow smoking outside or in a specified room of the house. Never in your bedroom.
If by accident something gets broken, fess up immediately and offer to pay for the damage. The golden rule applies here - do unto other people's homes what you would wish them to do in your own.
As a last effort of extreme politeness, if you've had a pleasant stay with your hosts, once you get home, send them a postcard with a view of your hometown or a local attraction. They'll be over the moon with joy, and you'll pave the way for a future warm welcome either for yourself or other American travelers. You can be sure that your postcard will be proudly placed in their guestbook and you'll have the satisfaction of knowing you've made somebody's day.

---
Return to Lodging from Bed and Breakfasts

Return to France Vacations Made Easy Home Page