Things to Know About
Bathrooms in France!
There will be variations in the bathrooms in France available for your use, no matter where you might be staying.
The French do bathe, and often. The opposite is an out-of-date urban legend started up by somebody who visited the castle at Versailles and based his assumption on the conduct of the now long dead Louis, who did not bathe, at least not very often. Just because perfume manufacture and usage is still widespread in France, does not mean this still holds true.
Habits can change over 300 years. Good thing, or our doctors would still be applying leeches to us whenever we come down with a fever!
Give me a shower and an aspirin anytime, thank you!
You will have well equipped bathrooms in France to use.
It might have a shower or a bathtub. Rarely will it have both.
Below, you will read a funny (and embarassing) story about an incident in a French bathroom. Do you have a funny story to share about bathrooms in France? If so, please tell about it at the bottom of this page.
---
Showers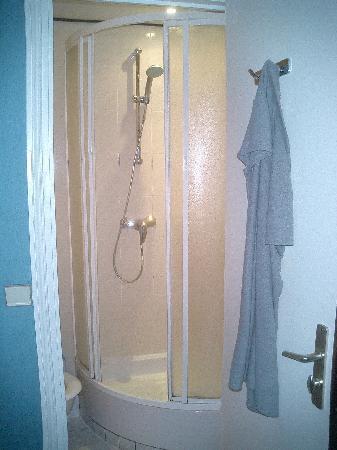 Someone did something really smart regarding bathrooms in France, which I wish would catch on in the USA.
Instead of hiding the pipes leading from the tap in the bathtub up the wall behind the tile or plastic wall of the shower, they use a flexible tube with a shower head on the end which fits into a holder on a bar.
The holder can be raised or lowered depending on the height of the person using the shower. Very short and very tall people love this feature. So do do-it-yourself plumbers. Spring a leak in the pipe? Buy a new flexible tube for about 10$ and your problem is solved!
It is also extremely pleasant to be able to effectively avoid getting that first blast of cold water directly on your head or back, depending on how good you are at cringing. Miracle! You can unhook the shower head before lifting the knob which changes the flow from the taps into the bathtub, to the shower head. Since you can aim it at the floor, you can wait until the temperature of the water is absolutely perfect before aiming it at your body! How wonderful is that?
Most shower accidents occur when jumping out the way of the scalding or freezing cold initial blast from the fixed shower head. It is very easy to slip on the porcelain and fall, breaking lots of different body parts, including your neck.

---
Bathtubs
Conversely, someone else or possibly the same fellow, did something rather stupid regarding bathrooms in France.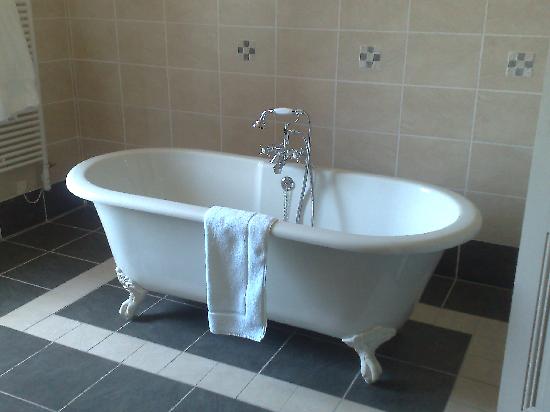 Many of the bathrooms in France that have bathtubs have the same cool shower head on a flexible metallic tube hooked onto the taps. But, not always is there a shower enclosure or even a curtain hooked on the tub.
Which means if you stand up to use the shower head, and there's no protection for the splashing water, the entire room will be a swamp in no time. In the worst cases, there's not even tile on the walls around the tub, which worsens the splash effect. Think moldy paint and peeling wallpaper.
Since I was intrigued by the use of the shower head on an unprotected bath, I asked the French person whose home I was staying in at the time. She very kindly took me into the bathroom and explained how one must squat in the tub and hold the showerhead in one hand while wetting oneself down, turn the water back to the taps, replace the shower head in it's receiver (think old fashioned girlie telephone from the 50's type receiver), lather up and then rinse carefully with a wash mitt without making any splashing at all.
I listened carefully and took note of the accompanying gestures.
The next morning when it came time for me to imitate her explanation, I found it nearly impossible to wash my hair while holding the showerhead in my teeth and maintain a squatting position. I was only 21 at the time and quite a lot more graceful than today. Still, it was worthy of a circus balancing act which I couldn't hope to execute without falling over, squirting the ceiling. Which I did.
My hair was badly washed, badly rinsed and turned out badly, which resulted in my having a pretty bad day, hair being incredibly important at 21.
I resolved to do better the next day.
Come morning, I filled the tub and lay in it, swished my hair about to get it wet, then sat up and washed it. I did have some "yuk" issues with the body soap mixing with the shampoo and then the conditioner. When I got out I felt a bit filmy, but still better than half washed.
When I bought my own home, I installed a rod above the tub and hung a curtain. Success! Later I installed a separate shower stall with the regulating height bar thing I explained earlier. Even better!
Yet, even today after 20 years of living in France, I take strange pleasure at checking out my friends' bathing facilities in their homes. I am still amazed that there are so many people who do the squat shower/bathe thing.
I have come to the conclusion that Europeans, (because this is not a strictly French thing, I've seen it in Belgium and in England with my own eyes) have over the generations since Louis, developed a specific bathing gene which supplies them with the requisite adept balancing technique for the squat shower/bathe.
I'm afraid you might not have it either. So when you book your hotel or bed-and-breakfast, specifically ask about the bathing facilities, or be prepared to lay flat and swish.

---
The Bidet

There is another really cool feature in most bathrooms in France - the bidet!
I have two of them in my own home. The one downstairs in the bathroom, used by my girls when they were very little, got lots of use.
At the time I had a very large dog, who was the love of my life. Her name was Elsa, and she thought the bidet was the perfect place to get a drink. She didn't have to scrunch down on her forelegs to drink from a bowl on the floor. It was the perfect height for her to drink from. Since I loved her dearly, I let her do this and I know she loved me back because of it.
I also taught my children to brush their teeth using the bidet. Yes, I can hear you squealing in disgust all the way over here! But I must mention that the downstairs bidet was not used for any other washing up chores. It just so happened that the height of the bidet was easier for little girls to bend over to brush their teeth. It was also quite a lot less dangerous than standing them on a stool to reach the sink.
Hand washing was done there too. As they grew up, they moved to the sink like everybody else and the bidet downstairs was only used by Elsa for drinks until she passed away. It is now pretty dusty.
The one in the upstairs bathroom gets used.
I'm not quite certain how much detail I should go into here about bidet use. Suffice it to say, that while you can use it to wash your feet, that is not what it was designed for. Think, in silence please, about the times you've felt the need for a little personal hygene quickie cleanup. That's what the bidet is for. Got it?
It is not an additional toilet.
Although as I said before, the toilet itself is quite often not located in the bathroom itself, but in a separate tiny room called the W.C. (water closet).
The bathroom is for bathing. There's a small wink flying across the pond to someone who caused me quite a hysterical fit of laughter regarding this when he came to visit me. You know who you are!!!!
If you're in a hotel, you can also wash out some dirty clothes in the bidet and hang them in the shower to dry overnight. I've done that too.
So while the bidet was designed for one specific thing, it actually is a pretty handy fixture to have in the bathroom.
The original multi-usage porcelain feature!
Elsa thought so....

---
Do You Have Any Amusing Anecdotes
About Bathrooms in France?
Maybe something at least as embarrassing as mine? (Come on, surely I'm not the only one out there!!)

Share your hilarious story with us! (Just please keep it clean - pun intended!)



---
Return to Practical Travel Tips from Bathrooms in France

Return to France Vacations Made Easy Home Page