Romance in France
Which European country brings to mind romance?
Of course, you guessed correctly! It's France.
Whether you dream of an evening boat ride on the Seine River, floating past Paris' famous lighted monuments, or if your idea of romance includes an intimate dinner for two in an unforgettable bistro in an ancient stone walled city, France has it: romance and atmosphere is what this country is all about.
Excellent food and fabulous wines are just a perk, L'amour is everywhere and it's French.
---
The Beautiful French countryside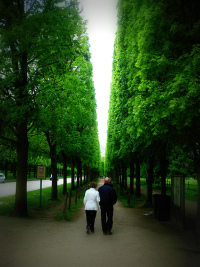 The French countryside is all about romance. Ancient hedgerows line quiet country lanes perfect for a bike ride and picnic "en tête-à tête".
Stop alongside a stone well or a mineral spring for your picnic, cooling your bottle of drink in the spring while you admire thatched roofed cottages reminiscent of days gone by.
Daily life in France turns around good food and drink, enjoyed in a decor fit for the kings and queens of yore who enjoyed these same bucolic settings for their own pleasurable pass times.
Visit their castles and manor houses, some of which have been turned into B&Bs or luxury hotels.
---
For Active Romantics...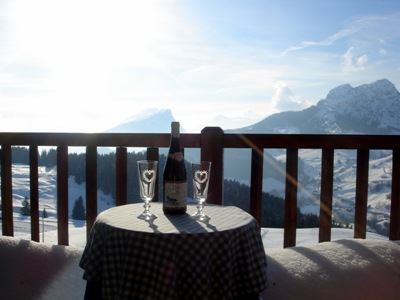 For sporting enthusiasts, couples can indulge in canoeing and kayaking along France's many streams and rivers.
Hiking, skiing or snow-boarding in the various mountain ranges all easily accessible by train from the capital is a must for the winter sports enthusiast.

A day on the slopes followed with a glass of "vin chaud", or warm spiced wine is a wonderful way to heat up your evenings.
---
Oh.... the Beaches!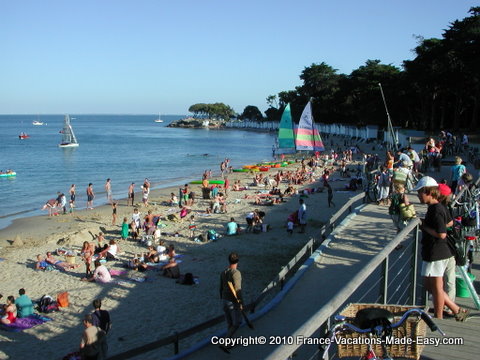 Beaches abound in France with coastlines on three of its five sides.
Water sports such as sailing, jet-skiing, windsurfing, or speed sailing followed by a seafood dinner with a tart local Muscadet wine make a coastal vacation an attractive option.
Don't forget a long walk along the seaside, or lounging in the sun.
Nude beaches are available in various sites for the like minded who want a tan line-free bronzed body.
---
And We Can Help!
Friendly people who know what romance is all about, and who are devoted to helping you iron out any kinks before you step aboard your flight, that's who we are at France-Vacations-Made-Easy.com.
Our on-site experience will help you choose that special hotel, memorable tour of a romantic castle, book a table and un-knot the secrets of the menu on offer for that romantic "diner à deux" for you and your loved one.
Better yet, let us guide you through the Normandy countryside, making sure you get the most out of your much awaited vacation, while avoiding the pitfalls of navigating in a foreign language.
We're here to take over the role of your vacation planner and tour guide, smoothing your way, be it for your honeymoon or simply a well deserved treat.
Our B&B service includes two guest rooms with private baths, full breakfast in a half timber framed house dating from the 17th century, complete with two working fireplaces, heated outdoor pool and barbecue gazebo. An American hostess with over 30 years in France gives you the best of both cultures insuring the trip of a lifetime for you and your sweetheart.
---
Romantic Weekend Breaks in Europe – ideas, highlights and top things to do on romantic getaways for two. Best French Riviera beaches for couples, cozy cafes, luxury hotels and best places to dine by candlelight in Paris and other romantic cities.
---
We'll make your experience of France unforgettable, taking care of all the details and leaving you free to enjoy the romance.
---
Return to Exploring France from Romance in France 

Return to France Vacations Made Easy Home Page