Loire Valley Romantic Getaway
by Daniel & Amanda
(Part-time from Belgium & Canada)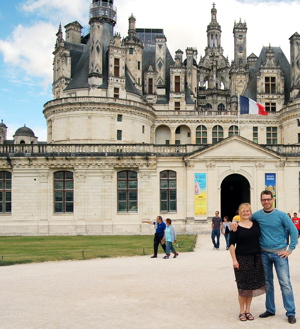 Château de Chambord
Have you been travelling trough the wine areas of Italy, Germany, maybe Spain or even California? Well you have not seen anything until you visit the magnificent castles and vineyards of the Loire Valley.

Romantic Getaway in Orleans and Château de Chambord


The first castle on our itinerary was Château de Chambord, built as a hunting lodge by king Francois.

Everything is enormous in this largest and most recognisable castle in the Loire Valley. It features 128 meters of facade, 800 sculpted columns and a 13.000 acres wooded park and game reserve around it.

There are more then 300 castles in the Loire Valley but this is the one that turned out to be our favourite on our Loire romantic getaway. One of the architectural highlights is the spectacular double-helix open staircase, designed by Leonardo da Vinci, where two people can walk up and down without ever meeting.

From Chambord we continued to Tours. A nice city in the center of France, which shouldn?t be missed. It has an amazing original medieval center called Le Vieux Tours and some panoramic bridges over the Loire River. We were also very surprised by its happening nightlife and music scene.

Romantic Wine Country Getaway

Our favourite wine discovery came in Vouvray where we stayed in a B&B in the middle of a vineyards. Many wine makers also run cozy Bed and Breakfasts in their vineyards. The wines in Vouvray are sparkling wines made of Chenin Blanc. They are usually dry and have a good acidity, which gives them an immense ageing potential if they are from a favourable vintage. In 2005 Decanter Magazine conducted a compilation of the "100 Greatest Wines" ever made. A 1947 Vouvray from the producer S.A. Huet was ranked #6 on this listing-the second highest ranking for any white wine behind only the 1921 vintage of Chateau d'Yquem.

Enough reason to take a small stock with you. They will send it by DHL for you to the States, Canada or wherever you wish.



Romance, Castles & Wine

For some suggestions on sleeping among the vines and the full transcript of our romantic getaways in Loire Valley (Orleans, Chambord, Vouvray and Saumur) do check out our European Vacations site -- all about romantic getaway ideas in the Loire Valley and France.