Alsace
Alsace is for Lovers?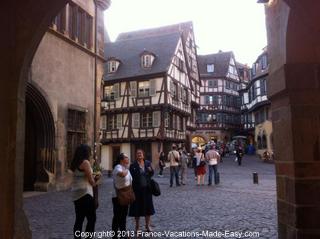 When I was 14, I had a t-shirt inscribed "Virginia is for Lovers" decorated with a large red heart. I wore it until it was in tatters and I was told that the time had come to commit it to the rag bag due to its shameful state of wear.
If I still had it today I would be tempted to scratch "Virginia" off and replace it with "Alsace". Sorry "ole Virginie". You've got some serious competition in France.
I've spent the last few days tooling around the eastern edges of France in the picturesque region of Alsace.
Alas, I've been alone.
---
Getting there....
Many of you will have heard of Strasbourg, boasting a magnificent gothic cathedral and cobble paved streets lining the canals of "la Petite France". It is the largest city in Alsace and draws a substantial tourist crowd, particularly during December when a huge Christmas market covers a goodly hunk of the "centre ville".
People come from all over Europe to sample local specialties and to purchase unique artisan products such as handmade soaps, embroidered linens, silver and amber jewelry as well as the infamous "santons" or figurines used for the "crèche" or manger scenes set up in virtually every French home for the season.
I did however get rather confused getting there.
Strasbourg, although located in the geographic north of Alsace, is part of the "Bas Rhin" or "lower Rhine" department. The mix up took place when, having gone too far south, I ended up in the department named the "Haut Rhin" or "upper Rhine" which, in my north American brain, would logically be above the lower Rhine, or north of it.
Mais non! The upper Rhine refers to the source of the Rhine River which happens to be in the south. The river runs north toward the North Sea.
In the long term, I did finally find my roundabout way to Colmar and Riquewihr, father south in the Upper Rhine.
---
French and German!
In general, the Alsacians aren't any more contradictory than the rest of the French, which means they love the exception to the rule. They are after all French; although there is some historical contradiction to that fact as well.
They've been French and German and back again several times over throughout the past few centuries. It makes one wonder about their roots and how difficult it must have been when choosing sides during the various wars which, unfortunately, played out in their region. This fertile countryside has been much disputed over time.
Every loves it here, and wants to stay.
No wonder I fell for the place. 
---
The Alsacians
The Alsacians, for that's how they really identify themselves, complete with their own dialect, are in fact very friendly people who openly will engage with those of us who appear lost and confused: obviously visitors to their region.
In the sleepy little village of Masevaux, a group of passersby stopped to shake my hand as they passed the sidewalk café where I sat writing this. They were pleased to answer my questions about the "crèche" which the municipal authorities appear to have forgotten to dismantle after Christmas. I was informed that there had been a unanimous vote to leave it up since it was so good this year. They encouraged me to photograph it as well, and pretty much hung around until I did. They were also very forthcoming with other tidbits of tourism trivia too numerous and obscure to mention here.
Suffice it to say that if you ask for help, you'll get it, and more.
---
Romance - the Charm or the Wine?
Still, the locals' hearty welcome isn't what makes me classify Alsace as all hearts and flowers, in spite of the heart cut outs on the shutters and the window boxes full of perky blooms.
I'd say it has to be the pure unsophisticated charm of the place.
And the fact that they produce lots of really good wine, some of which bears labels with unpronounceable names such as the infamous conversation stopper "Gewurztraminer", (pointing at the menu with a thumbs up sign to the waiter works just fine).
---
Paris is a romantic city, it's an accepted fact. But it's also pricey, pretentious and uber sophisticated. Paris thrives on reflecting an upscale market elitism frowning in disdain on those who don't adopt its quirks and snobbery. One doesn't wander into Dior wearing sports sandals and walking shorts to have a browse.
In Alsace, I do believe they'd have the appropriate pair of socks to sell you in view of completing the geek look, with a smile and an offer to cut the tags off so you might slip them on right away. Not to misunderstand my respect for their sense of fashion. Indeed I ran across any number of trendy shops in Colmar and especially in Mulhouse. But they were staffed by friendly non disdainful staff, willing to give the buyer what he requested, no matter how odd, and with a smile.
Snooty is not the attitude of choice in Alsace. And that is refreshing.
Still, is that enough to inspire Cupid?
---
Or the Scenery?
Maybe it could be the scenery.
The main valley is tucked between two ridges of soft bluish mountains running north and south. On the valley floor run miles and miles of vineyards which produce a wide variety of whites, as well as some very pricey reds.
But that isn't the source of romance either.
---
The Architecture?
The architecture is thoroughly charming: half timbered facades interspaced with pastel painted stucco, crowned with an odd turret, camped along winding cobbled streets trailing burbling rivers bordered with pleasant cafés and terraced restaurants begging your tired travelling self to have a sit and indulge in something tasty.
How could I resist?
I didn't.
---
All of It!
The relentless assault on the eyes, the palette, nose and my sense of feeling honestly welcome provoked a gut wrenching desire to grab my sweetie's hand and meander forever, or at least until we got hungry and thirsty, or were overcome with the need for a smooch fest. But I was alone and here on business, with no potential sweetie for hand holding.
Which leaves me on the lookout for a Prince Charming, who surely must materialize around the next bend in this fairy tale land. That's the way the story goes, n'est ce pas?
And if he's slow showing up, I may have to take my pal Jesse's advice and catch me the nearest frog.
---
Return to Exploring France from Alsace

Return to France Vacations Made Easy Home Page