International Kites Festival
in Dieppe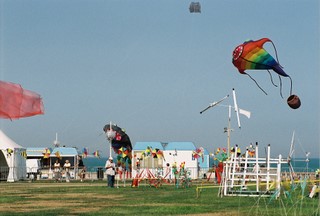 I can't help notice the kites dancing in the sea breeze above the buildings under a pristine sky and against the deep blue background of the English channel, as I drive down the hill into town along the same road taken by the German tanks when they rumbled in to take possession of this lively port and valuable ferry link to England in 1940.
I imagine the atmosphere on that day was very different, most likely a quiet hush reined supreme as the population watched with grim acceptance as the oppressor took over their lives.
---
On another September day...
I can also imagine the festivities of another September day, this one in 1944 when Canadian troops marched down this exact same hill into cheering crowds of ecstatic locals, little girls running to give late blooming daisies to grinning uniformed young men, the ones who strode in to set that same population free.
---
A symbol of freedom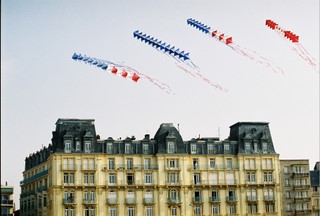 The party has lasted a good long time and today the town celebrates its freedom once again with the free flying rainbow hues of an enormous eclectic collection of kites.
For what better symbol of freedom than a colourful kite flitting left to right against a blue sky?
---
A sky-full!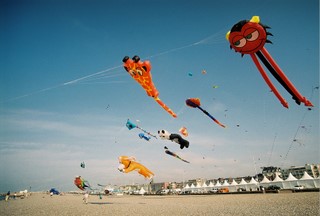 The pleasure of watching an entire sky full of them is common to all ages and walks of life. Old and young, all races, all religious orientations, all political parties, in short everybody loves a kite.
And nowhere have I seen such a great place to fly them as in Dieppe.
---
Hold on to your hat!