What to pack and
What not to pack!
What to pack, what not to pack, what to wear or what not to wear... Here are some fashion suggestions to help to ensure that the locals don't stare you down as if you've just arrived fresh from the moon.
Going to a France on vacation is something you've planned for quite awhile, I'll imagine. It's a bigger, more exciting trip than going to Mexico to lay on the beach and snorkel. Which is not to say that going to Mexico isn't fun. I'd love to go! Two swimsuits, some flip flops and a strappy dress and you're all set! Easy!
But what to pack for a vacation to France?
As for France, well it's Europe and the French are so... well.... French.
---
What Not to Wear!
The French look different, they obviously speak a different language and they dress differently than the average American does.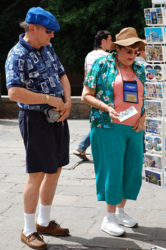 I can tell at a glance as I'm walking down the street in Paris if somebody is American. Unless of course, I confuse that person with a Canadian, which visually is just about the same thing. Not hear the difference, SEE the difference! Yup. The average American stands out like, well the obvious adage is "like a sore thumb". But there's something derogatory about that. So, let's just say "stands out".
Why? Running shoes (especially worn with white socks and walking shorts), sweatshirts of any type, track suit type pants, baseball caps, fanny packs.....need I continue?

If you own any of these things, and I'm sure you do, leave them in the USA to wear on your trip to Orlando and the theme parks. At the very least, never wear any combination of two, at the risk of being a walking cliché.
If you own any of these things, and I'm sure you do. Leave them in the USA to wear on your trip to Orlando and the theme parks. At the very least never wear any combination of two, at the risk of being a walking cliché. Hmm, did I repeat myself here? In case you weren't listening the first time: please, leave this stuff home!
Think of this - what comes to your mind when you think of a French person? A Maurice Chevalier type guy with a smallish mustache, wearing darkish clothing and a beret, with a baguette and newspaper under his arm, leading a poodle? Come on, admit it! We all have our clichés when we think of foreigners. Except guess what? This time the foreigner is you. And I can promise you that our cliché is as described above and you can add biggish hair for the girls and the inevitable glob of chewing gum.
All in all it's not a really bad image. Americans are in general very clean and have shiny white teeth. They're reputed to be pretty friendly, polite and smile quite a lot. Now if we could just get rid of the uniform thing we'd be just about perfect.
---
Rules...
So Rule #1. Do not pack pristine white running shoes unless you plan to get up every morning and actually go running. Plus they're heavy and now that we're all down to one suitcase, you'd be better off with shoes that could do double duty.
Rule #2. The same goes for sweatshirts and sweat pants. The French never wear them out on the street, unless they're running for exercise, as mentioned above in regards to the shoes.
A French woman wouldn't be caught dead at the supermarket in sweats. Likewise, neither would a French man or woman travel wearing sweats or any variation thereof. Even long haul air travel. They just don't. Period.
Rule #3. Shorts. They're iffy. Meaning iffin you're at the beach or in a beach resort area and it's the daytime, they're acceptable. Iffin you're sightseeing in Paris, or any other non beachy destination, weeeelll, you're gonna look like an American tourist.
Ladies - easy solution - wear a skirt or sundress and flat sandals. You'll look cute, stay cool and the glances you'll receive will be admiring ones.
Guys - jeans or khakis and a polo shirt, not a t-shirt with lots of urban wisdom inscribed on it. Guys can wear those cool trekking sandal things if their feet are hot, but definitely sockless. Or deck shoes if you need socks. Running shoes for guys, even with jeans, gets you right back on the track towards the uniform thing.
Rule #4. Dinner attire. You don't have to wear a suit or cocktail dress to dinner. If you want to and are going to a very upscale restaurant, by all means, go ahead. Or if you're invited to dinner at the Elysée Palace with Nicolas and Carla, then you'll need these outfits.
However, for everywhere else, nice trousers and a top will do fine. For guys and ladies alike. Ladies can wear a dress or skirt and top. There are a substantial amount of very good restaurants, which will allow you to even wear jeans, obviously not ones with strategically placed rips, not matter how much they cost.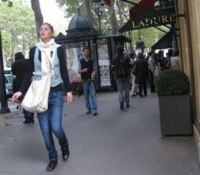 But the French have a flair for wearing jeans and making them look classy. Nice dark washed jeans with nice shoes and button down shirt for a man, and if he's really cool, a blazer or neat jacket over top will get him through just about any door.
Ladies, nice dark washed jeans with heeled boots or nice flats and a dressy top will be acceptable at about 99% of all the restaurants I can think of.
There are a handful of places where this won't fly, but they're the ones where you reserve months in advance and spend thereabouts of 100+€ per person without much wine at all. If you've planned enough in advance and have reservations at one of these select handful, then get out your finery, but even so, in general the floor length evening gown of the red carpet type is still not going to show up, unless you'll be attending an opening performance at the Opéra Garnier. Even then a cocktail dress will do.
On the flip side of this, shorts are out after dark. Dinner at McDonalds? Ok, otherwise long pants.
Rule #5. I know that you really like to wear baseball caps. They resolve unruly hair, dirty hair and lack of hair. I know you like to show off your support of your alma mater, your favorite team or your preferred beer, all while hiding your hair or lack thereof. But, it's part of the cliché, really. You have to trust me on this one.
The French are pretty much hatless people, except when it gets really cold which isn't that often. When that happens they wrap a woolly scarf around their necks and burrow their ears down into it, picking up their walking pace to remove themselves from the rain cold, etc.
They do carry umbrellas for protecting their hair or heads from the wet. Guys too, an umbrella is not considered a sissy thing, unless it's pink and frilly.
Rule #6. Fanny packs for practical use are still out.
Ladies: carry a nice tote or largish handbag with your map, guide book, sweater, sunglasses and umbrella in it. One with long enough straps to go over your shoulder. Choose one with a zipper on it, to discourage pickpockets.
Smallish backpacks are also pretty common for men, but do not put your passport, cash, credit cards, cell phone or expensive sunglasses in the outer zippered compartments. Pickpockets will love you, and so will your airline company, when you get your passport stolen, miss your flight and have to buy a set of new tickets for everybody just to get back to the USA 3-5 days late, depending on if you're ripped off on Friday afternoon, after the embassy closes for the weekend.
If you're carrying your passport with you, put it and your extra cash, credit cards etc in the bottom inside your backpack in a zippered interior compartment. Ladies, use that little zippered compartment inside your purse or tote and zip the outside zipper too.
Pickpockets are looking for you, and they're very good at what they do. I saw a man directly in front of me lose his wallet from his back pocket of his jeans, and they were pretty tight jeans, without even noticing it.
Ladies, likewise, do not hang your purse/tote on the back of your chair in a café. Put it on the floor between your feet, and keep your feet planted on either side of it. It happened to my daughter and we didn't see a thing.
If you have pockets on your pants, put some cash in the front pocket, like enough for your ticket up the Eiffel Tower or a subway ticket. Do not stand in line and open up your wallet to display your array of credit cards, cash stash, passport and hotel room key/card. You're advertising yourself as a turkey ready for the plucking. Pickpockets spend all their time hanging around tourist attractions, waiting for cackling, excited turkeys.
Just one more thing, that nice young man who offers to take a photo of you and your spouse using your brand new 600$ zooming Olympus camera with built in video feature and internet access, just might dash off with it through the crowd in front of Notre Dame. Maybe not, but maybe so.
Young people - do not walk through the busy streets of Paris with your eyes glued to your cell phone, sending text messages. If you do, you're a ready-to-be-plucked turkey. It's very easy to grab a phone and make off with it down the street before you know what's happened. Send text messages from your hotel room, or seated in a café with others in your group around you paying attention to the world passing by.
---
No Turkeys!
While most of this could seem obvious to some, to so many it's not.
Wearing the cliché uniform lets everybody in the street know that you don't really know where you're going, that you're dragging around money, credit cards, and passports, as well as some nice cameras, cell phones and other assorted re-saleable goodies.
The less you stand out the safer you'll be, the better time you'll have and the more nice anecdotes you'll have to bring home with your photos.
I hope this has given you a good idea of what to pack for your vacation to France!
And no more gobbling!
Return to Practical Travel Tips from What to Pack
Return to France Vacations Made Easy Home Page