An Afternoon at the Spa
Historical beauty frivolity in Dieppe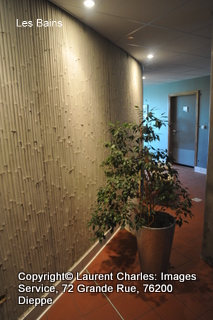 Last week I decided to do a selfish, exploratory journey into Dieppe's past and it's spa via a massage and facial.
I know you're thinking "what the heck is she going on about now?"
Bear with me for a minute.
---
Ahhh... the start to a wonderful afternoon...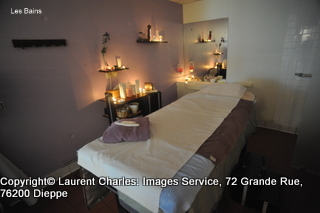 Have you ever had a massage?
An authentic one with scented oils and expert hands in a candle lit room with soothing, tinkling music drifting about the warm terry cloth covered table? A spa massage?
After about 15 minutes of such hedonistic relaxation, your mind slips off into faraway countries inaccessible during normal activity.
I went back in time.
---
Les Bains

No, I was not partaking of any chemical substances. I was however, enjoying an afternoon at the spa in Dieppe: Les Bains.
You see, during the early 1800's sea bathing became the thing to do for the superficial ladies of the elite.
The virtues of sea water, especially of the invigorating (read: cold) type found along the beachfront in Dieppe, were reputed to firm up the skin (read: pucker it tightly into one huge goose-bump), and restore lively circulation (no kidding!).
Little wonder that said ladies wore bathing costumes comprised of 6 pieces, which most likely gave rise to the invention of today's thermal wetsuits used for polar bear scuba diving.
---
The Duchess of Berry Started it All
Dieppe owes a good deal of its popularity with Parisians to the Duchess of Berry, a slightly frivolous lady who chose to come and dip here in the 1840's, just a few meters from where I lie on my heated table at the spa, a bed of warm bubbling algae working wonders of relaxation along my spine as Marion, a young lady of excellent fingers pries the wrinkles from my forehead.
I do not wish to change places with the Duchess.
She and her girlfriends climbed into horse drawn beach huts on wheels and were jolted down the steep incline of the rock beach to the water's edge, driven into the surf where they emerged to skip up and down in the waves under the watchful eye of two lifeguard servants dressed in one piece bathing costumes (ah, the difference between the employer and the employees: fewer layers of insulation!), before climbing back into the hut, toweling off while being dragged back up the beach incline to re-emerge, fully dressed once again, though pink and exhilarated, and stroll into the beach-front spa which, by the way, was located exactly under my warm terry cloth covered table, and have some tea and cake.
The tea and cake part sounds ok. It's the frolicking in the freezing water in lots of layers of clothing part which keeps me limp on the spa table.
---
A Lone Shoe in the Road
There are however, two clubs of odd creatures who do partake of this ritual daily, and I mean every day of the year, come rain or shine or sleet or snow. They are competing clubs named the "dauphins" and the "pingouins". No need for translation here, you can guess that both groups emulate cold water wildlife.
It is a peculiar spectator sport for locals and tourists alike to walk down to the water's edge around noon, on any particularly nasty, cold and windy day, say January 17th for example, and watch a group of 10 or so people strip off their outer wear and splash off into the water, jumping about for approximately 10 minutes before scurrying back to the rocks to hurl themselves into large toweling robes held out to them by their own personal servants: their fellow bathers.
It resembles a sort of relay race from hell: one group goes in and the other group holds out the towels until their own turn comes about. When it's over, they too are pink and invigorated and invariably trot off to have their lunch. When interrogated regarding this activity and their motivation, one theme is common to all: "You feel great when it's over!"
This attitude is one of life's great mysteries to me, close to, but not surpassing the philosophical conundrum of the lone shoe abandoned along the roadside.
Why would one choose to inflict distress on one's own person just to feel better when it was over? Must we punish ourselves in order to appreciate what's okay?
And by the way, how could anybody lose one shoe along the road? Never have I lost a shoe from my foot while in a moving vehicle. Fred Flintstone might have. He had to run to propel his vehicle. My feet stay in the car at all times. He and Barney didn't wear shoes anyway. Whatever.
---
Musings on make-up...



As Marion finishes up the layering on of the marine oligo-elemental mixture of miracle goo on my face, neck and décolletage, I wonder at the beauty regimen techniques of yore.
For example make-up in the middle ages was made of lead based silicates.
No wonder people died so young! The ladies were poisoning themselves through osmosis.
---
Agnès Sorel - Mistress of Charles VII
Another notable woman of history who adhered to weird and wonderful beauty treatments was Agnès Sorel, the mistress of Charles VII of Joan of Arc fame.
Charles was the king Joan had to convince to stop dallying about with Agnès, and claim the throne of France back from the English. She was nicknamed "la Dame de Beauté" and more popularly "Agnès aux beaux seins". If you Google her, you'll see the infamous portrait of her and her denuded left breast and guess at the translation of the second nickname.
She refused outright to either smile, frown, laugh, squint, scowl, or grin and barely moved her lips when speaking so that she might never produce a wrinkle on her smooth white skin.
Marion might have been unemployed if she had worked in Agnès' household, but she sure has her job cut out for her with my way too lively face.
I do wonder how Agnès kept Charles entertained: being such a barrel of monkeys to hang around with.
No explaining a king's taste in women, I guess.
---
A Romp in the Dew
A few centuries later Diane de Poitiers, another infamous mistress, this time of Henri II, her former student (!) and later on king/lover, rolled naked in the morning dew every day at dawn.
While this involved more invigoration paralleling the Duchess and her sea bathing, at least she promised to be a bit more interesting.
And with better circulation to boot.
---
Beauty is much more fun today...
Still, I don't like to get out from under the eiderdown before dawn.
Today, we of the warm water species have earned ourselves some hard won sunbathing wrinkles spiced up with quite a few laugh lines.
Marion will be in business for quite some time to come during which I will be dallying in the sea water Jacuzzi and soaking up hot algae wraps and marine salts though osmosis before going off with my like-minded girlfriends to have a cocktail and tapas when the day at the spa is over.
Beauty is much more fun today.
---
For more specific and less frivolous information regarding the much appreciated spa: "Les Bains", please click on this link to my page regarding their particular attributes… (coming soon)!
---
Return to An American in France from An Afternoon at the Spa

Return to France Vacations Made Easy Home Page