Restaurants -
Dining in France
Open for lunch or dinner, restaurants are the obvious choice for dining out in style during your vacation in France. While you're most likely happily anticipating a delicious, sophisticated dinner for two, there are a few things you ought to know before taking your seat.
---
All restaurants have a copy of their menu complete with prices, posted outside, either on the facade or on an attractive little stand on the sidewalk.
Look closely at it.
It will be comprised of several sections: the à la carte pages, the fixed menu pages, and the drinks list.
---
à la carte Menu
On the à la carte pages, you'll see several headings -Entrées, Poissons, Viandes and Desserts.
Entrées
Entrées is a word which some great lout decided to translate into use in upscale American restaurants as main dishes. This unidentified fool has caused much confusion to the average American and French tourist visiting each other's countries.
Entrée in French means one of two things: entrance, as in opposite of exit and starter dish, or appetizer. The only clue to this enormous blunder on the part of Mr. X, comes from observing the prices.
While it could seem obvious that a main dish would be more costly than an appetizer and vice versa, being on vacation in a foreign country leaves extra room for one's logic to take flight after the first cocktail. Sadly, I've witnessed some confusion and arguments regarding this when said dish arrives at the table.
If the wait staff have experience with an American clientèle, they'll usually kindly point the difference out. Especially if you place your order for an entrée followed up with nothing but dessert. But, it isn't their fault if they don't.
In fact some restaurants won't allow you to order just an entrée without a main dish. At best, you could quite possibly leave still feeling rather hungry, or at the least be disappointed in the portion size without knowing that you've made a small mistake.
In comparison, think of the poor French fellow who will order an entrée in the USA, thinking it's an appetizer and then go ahead and order another main dish behind it. What with American portion sizes he'll either explode, or be sick, neither of which is an awfully positive experience when you're on vacation. This also feeds the European notion that Americans eat far too much.
Mr. X should be sought out and guillotined.
Poissons


Poissons means dishes based on fish. Usually of excellent quality and freshness, they're most often accompanied by a scrumptious sauce of some kind.
It will be served with a side dish of rice, potato or vegetables. You won't get to choose the side dish. The chef has chosen for you, depending on which flavor goes best with his sauce. Leave him to do his job, he most often knows what he's doing, unless of course you've been damned with some sort of food allergy, in which case you can request an alternative.
Personally, I almost always go for fish in a nice restaurant, if only for the great sauces and fine delicate flavors of the fish.
By the way, France is surrounded on three of its six sides by oceans. Ocean fish is much more common than fresh water fish. It's a good choice particularly for those who don't like fishy tasting fish.
I happily proved my point to a pair of skeptical American friends who refused to let me buy salmon for them for dinner, afraid to face greasy fish and insult me by not eating it. They had tuna steaks instead, but tasted the salmon and repented once and for all.
Fish in France is never battered and fried, ever. Instead it is baked, or broiled or poached, making it a wise choice for someone who's a little on the diet conscious side.
Viandes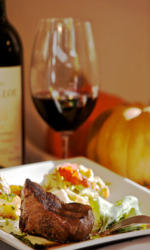 Viandes is a wide selection of meats of all kinds, including fowl.
Usually grilled cuts of red meats and pork or mutton chops are served in family type restaurants. The more upscale you go, the more the selection will veer off into sweetbreads and exotic meats which most Americans would rather not even talk about let alone eat.
I've been told time and again there's nothing so tasty as rognons de veau , or veal kidneys simmered in a wine sauce, but personally, I find myself getting a bit squeamish looking at them. Shame on me. If you've the inkling to try, France is the best place to give it a go.
However, do be aware when ordering a steak or duck, that the chef would much rather serve it to you rare. He's proud of the quality of his meat and rare shows it off best. If you're used to ordering medium-rare in the States, order medium in France. The general rule is at least one step up in France as opposed to how you'd eat it in the USA.
If you like your meat well done, it's better if you order something other than a steak, because no matter what you say, it will be pink in the middle, and you and the chef could get into a shouting match about this. The French do not eat their beef well done, except at McDonalds.
Your meat dish will also be accompanied by a side dish chosen by the chef for you.
---
Desserts - Ah! Heaven!
Desserts... well... you'll be in heaven.
Even the ice creams in France are fabulous.
The portions aren't enormous, because people are quite accustomed to eating dessert on a daily basis. You should too. You won't regret it unless you have diabetes.
Try anything.
---
Drinks
The drinks section could quite possibly be where you'll spend the most money.
A bottle of wine can be as costly if not more than your main dish. Half bottles are available but the selection is smaller.
The tough part comes in choosing a bottle which will fit everyone's main dish. Ask for help from the waiter, or order two halves of house wine: one red, one white if the table is divided between red meat and fish.
No one ever drinks sodas with their meal, ever. You can order one as an aperitif, or before dinner drink, but not to accompany your food. You would shock the wait staff.
If you do not like wine, order a bottle of mineral water. If you are at a family type restaurant, such as "Buffalo Grill", a type of steak house located in shopping mall parking lots, you can have tap water. This is frowned upon in upscale restaurants. Order a bottle of still mineral water, une bouteille d'eau plate.
Digestifs are the after dinner brandies and harder liqueurs which can knock your socks off if you overdo it.
Many people like a schnapps or fruit based alcohol after dinner to aid in their digestion. Bizarrely enough, this does seem to help in digesting a too large or too rich meal, possibly by burning an additional hole in your stomach to help it empty.
Never drive yourself back to your hotel if you chose to try this. If you take a taxi, write down the name and address of your hotel on a piece of paper and give it to him, since a digestif could have an audible effect on your French pronunciation.
---
Fixed Menus
Menus are the fixed price package deals of restaurants. They're always a better value for money because you'll get a starter, a main, sometimes a cheese and salad course and dessert, for one price, no surprises.
They're set up with several choices in each category. These categories are separated horizontally with a decorative line or simply a large space. Choose one dish from each category.
Some menus come with a glass of appropriate wine chosen for each dish. This is an excellent formula, most often available in very upscale restaurants.
While the menu could seem very expensive, for example €50+ per person, there are no additional costs, and you'll be certain of the very best selection of wine to accompany your food, without compromise between dinner guests in regards to who prefers which type of wine.
---
Restaurant dining is always a treat in France, but it involves some time.
Expect to spend a couple of hours at your table.
So, sit back, relax and bon appétit!
Now if only Mr. X would have come up with a suitable translation for that.....
---
There are a lot of wonderful restaurants in France. Do you have a favorite one, maybe one off the beaten path?
Is it one that every visitor to France should try to visit? What is it about this restaurant that puts it at the top of your list?
---
Return to Eating in France from Restaurants

Return to France Vacations Made Easy Home Page