Real Men Do Eat Quiche!
... and they like it!
Yes, quiche eating men abound in France, and you'd better not question how manly they are as they bite into this delicious whole meal in a pie.
---
Quiche is an open pastry filled with eggs, cream and a large variety of vegetables, meats or seafood. They can be as easy or as complex as you like. My favorite variety is made with whatever I've got left in the fridge.
A flaky pastry crust readily available in your local supermarket rolled out into a large shallow round pie pan or deep dish pizza pan is the base for your quiche.
For the basic egg filling, using a large bowl, take 6 eggs, beat with a fork to mix the whites and yellows as if you were preparing scrambled eggs, then add 400 ml of "crème frâiche". If you can't find "crème frâiche" in your supermarket mix two parts sour cream with one part whole milk.
Beat into the eggs with a fork. Add salt and pepper to taste.
At this point, try several variations on the basic theme. Here a few of my favorites, but don't hesitate to innovate with what you've got left over in your fridge. However, do avoid using beef or chicken of any sort. Add your extra ingredients to the egg-cream mixture before pouring it into the open pastry shell.
---
Quiche Lorraine: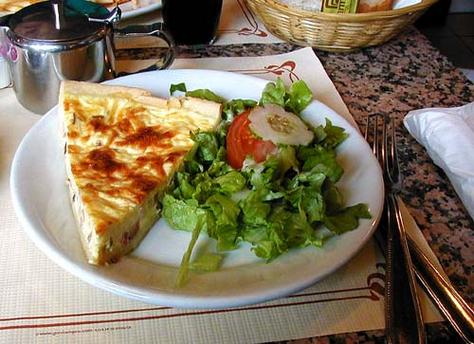 Cubed smoked pork, (I use unsliced bacon from the butcher shop and cut it into small cubes about a third of an inch long/wide/thick, these are referred to as "lardons" in French and are used in lots of different recipes), a chopped onion, parsley leaves.

---
Quiche Diane:
Cubed smoked pork as explained above, a courgette (or zucchini) sliced in thin slices with skin still on, a chopped onion, chopped green pepper, sliced mushrooms, parsley leaves and chopped chives.
---
Seafood Quiche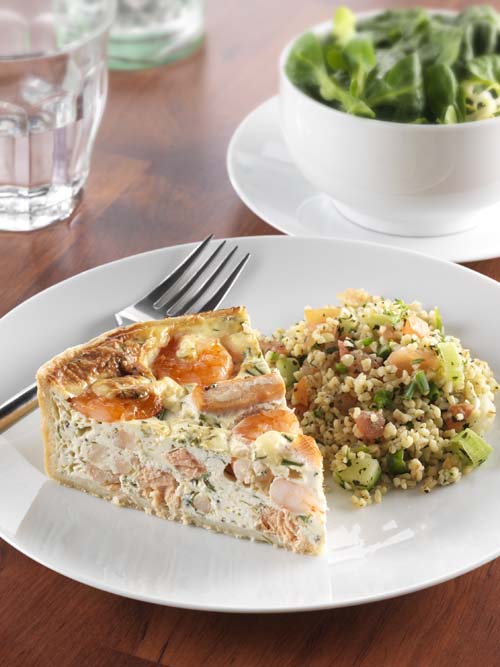 Add shrimp, smoked salmon bits, crab meat, fresh salmon, mussels, or shredded fish filets of any kind. Use any combo of the above and add one sliced leek and some fresh parsley leaves.





---
Vegetarian Quiche:
A sliced courgette, a sliced leek, sliced mushrooms, some broccoli fleurettes, chopped onion, parsley and chives. Then once you pour the mixture into the pastry filled pan, top with a very thinly sliced tomato.
---
Then to bake!
For all of the above: bake at 350° preheated oven for 30-35 minutes. The top will rise, brown and crack open, then turn the oven down to 200° and bake for another 15 minutes.
Let sit for 10 minutes then serve warm with crusty bread and a side green salad.
If you have individual 4 or 5 inch tart pans, you can make up small quiches for a picnic lunch, the pastry lets you eat them with no silverware and once they're baked, they can be eaten at room temperature. They're easy to transport wrapped in a napkin, or waxed paper.
---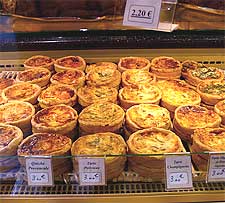 Lots of deli's in France sell individual portions of Quiche Lorraine or other variations. They'll heat them up for you if you like and they're a nice alternative to a sandwich as you walk around and window shop. Yummy for the ladies and for men!
Bon appetit!



---
Return to French Cuisine from Quiche Page
Return to France Vacations Made Easy Home Page