French Currency - The Euro


So, you're planning a trip to France and maybe you feel a bit intimidated by the whole French currency exchange thing.
Not to worry, it's much easier than say, twenty years ago. Now that the French currency, and indeed most of the rest of the currencies in Europe are now the Euro, the European tour has become much less of a calculation headache.
And you don't have to 149000 lira for a sandwich in Rome or 15 francs for a can of soda in Nice.
---
Explaining the Euro
The Euro is quite a lot like the dollar. It's based on 100. There are 100 cents to a dollar and there are 100 euro cents to a Euro. The smallest coin is a 1 cent coin, made out of copper. However, there are also 2 cents and 5 cents coins: also made of copper. So for a limited time during your holiday in France, you can actually put in your two cents worth and have it mean something.
There are 10, 20 and 50 cent coins, as well as 1 and 2 euro coins. The former are all made of some yellowish brassy colored metal, and the latter are dual tinted. One and two Euro coins have brass colored outer edges and a silver colored center. You'll forgive me for not researching the actual metal content of each denomination of coin, I'm assuming you could care less.
Another undisputed truth made evident in the Euro system is that size truly does matter. A penny is the smallest coin and with each value graduation, coins get bigger. Thus a 10 cent coin is smaller than a 20 cent coin and so on.
The same holds true for notes. Euro bills exist in 5, 10, 20, 50, 100, 200 and 500 denominations. They vary in color and size. Personally I like purple, but don't often get to handle the rare, purple 500 € note. Like the rest of the French population regarding French currency, I'm a bit intimidated by the big purple guy. That's an awful lot of money invested in a piece of paper.
---
Laundering Money?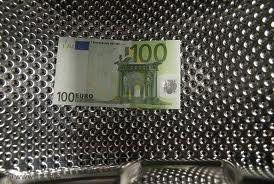 Being a bit careless, I can't count the number of coins I've fished out of my washing machine trap, nor the number of 5€ notes I've ironed flat in the pockets of freshly laundered jeans. I think it's a side effect of the carrying-a-bit-of-money-around-in-the-front-pocket-of-my-jeans-to-avoid-fishing-through-my-purse-to-buy-a-baguette thing, which I explained on one of the practical tips pages. So, I use clean money, so what? I have yet to have my wallet snatched. Now, let's hope that fate isn't listening to that tempting comment, n'est-ce pas? Still, I think that even careless me wouldn't send a misplaced 500€ note through the washing machine. If I were to own a mis-placeable 500€ note, that is. Fat chance of a snow storm in hell.
To recapitulate about French currency: 5€ notes are blue, 10€ are red, 20€ are also blue, 50€ are orange, 100€ are green, 200€ are yellow and 500€ are purple. The twenty notes are about the size of dollar notes. The 5's and 10's are smaller and the 50's, 100's, 200's and 500's are bigger.
---
Again - A Safety Tip
Once again, I'll state loud and clear that the best way to get your belongings stolen is to carry around a wad of notes and to shuffle through them looking for a 5€ note to buy a postcard in a crowd in front of the Eiffel Tower. Once you've found the correct note, your wallet, credit cards, video camera and back pack containing your passport and plane tickets will be on a motorbike headed toward the other side of Paris, and notably, without you.
Better to iron an occasional 5€ note in your clean jeans than to wreck your remaining vacation days hustling a new passport to get home.
---
Important Tips about Tipping
One last word to the wise regarding French currency and this regards tipping.
Recently, a group of people I met went to Paris on an organized tour with a reputable tour guide: a Parisienne woman tour guide. I received an email from one of the people explaining that aforementioned guidesse was insisting they leave 4 or 5€ per head as a tip at each meal. This is the kind of thing that has the impetus to send me off into a frenzy of rage.
I love France, and in general I love the French. I do, however, hate crooked, sneaky people who feel that it's slick to take advantage of anyone who might not know any better. This includes kids, animals and harmless American tourists. If there is a reason for the existence of this website, you're hearing about it now.
Service is included in the price of the food. Everywhere. It's a law.
No one is required to tip anybody, for any reason in France. All over France.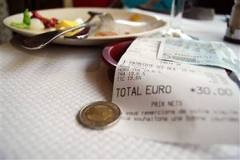 IF you feel that the person/people serving you have been friendly, helpful, kind and efficient, by all means leave them a euro. If you've had a cup of coffee, leave them 5 or 10 cents. IF your tour guide or taxi driver has carried your luggage or given you handy advice, and been friendly and helpful, slip a euro or two into their hand at the end of your trip.
But be aware that they get 5 weeks paid vacation per year, and have full medical insurance of the best kind on the face of the earth. Every employee in France works under those same conditions. It's the law. Everywhere in France and in every line of work. They do not need your tip to hoist their salary to a level with minimum wage. They'll be happy to add your generosity to their pay at the end of every month, but it is not mandatory.
Please do not be swayed by a sneaky tour guide who probably gets a kick back from every place she drags unsuspecting tourists into. Unfortunately, in every country of the world you'll find a greasy-hearted, smooth-talking unmentionable, out to make a fast buck/euro/pound/yen/dinar/rouble/peso.
Read up beforehand and arm yourself with the savvy to know when not to listen to these disreputable creatures.
You may however leave a tip on this website, and by tip I mean, an informative tidbit about French currency which has been useful to you in your travels. Please, leave us a note, we're all ears…well…eyes.
---
Any Unanswered Questions
About the Euro or
About Tipping?
If you have any unanswered questions about the Euro, or how and when to tip appropriately while in France, please ask your questions here and I'll be happy to answer them.

I want to make sure that everyone is very clear about the Euro, and especially about the tipping expectations here in France, so you can save your money for more fun things.

Return to Practical Travel Tips from French Currency
Return to France Vacations Made Easy Home Page