Beaujolais Nouveau
and not so nouveau….
---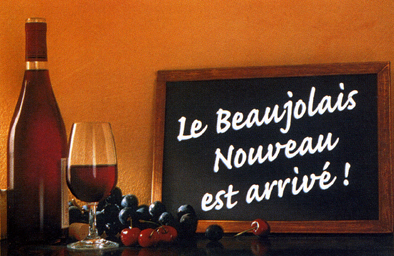 The arrival of the third Thursday in November is cause for celebration in France, for it heralds the sale and consumption of Beaujolais Nouveau.

---
What is Beaujolais...
and why the added adjective of "nouveau"?

Beaujolais is an important wine producing region in the heart of France. Its territory is located in two different departments of France, although it used to be a province in its own right.
Twelve different "crus", AOC or geographic vineyard areas produce an annual average of 1.1 million hectoliters of wine; which, if you're a numbers geek, could work out to a crazy quantity of 75 centiliter bottles. I choose not to do the math, primarily because I have a head cold.
The names might ring a bell with some of you.
They are:
Beaujolais (bet you saw that one coming!)

Beaujolais Villages

Morgon

Régnié

Moulin à Vent (windmill: how cute!)

Brouilly

Côte des Brouilly (literally: on the hill above Brouilly, another picturesque moniker)

Juliénas

Saint-Amour (literally: Saint Love: awwww!)

Chénas

Chiroubles

Fleurie (literally: flowery)
Each of these "crus" is further divided into different properties belonging to individual wine producers. These properties are named "chateaux".
---
Another kind of chateau
I was rather surprised the first time I visited St Emilion, which is not located in Beaujolais, but in the Bordeaux region, another famous wine producing region of France.
My shock came when I realized that there were in fact very few buildings even remotely deserving the title of "chateau". When I blurted out my dismay: "where are all the castles?" my ignorance was met with indulgent smiles.
As an American, I expected stone-turreted, fairy-tale castles at the end of each and every tree lined lane.
There are a few of those, of course, but where wine is concerned a "chateau" is simply the name chosen by the original owners of the plot to designate the vineyard. Which explains the sometimes Sleeping Beauty type castle-less designs on the labels.
The French don't much care. They're concerned about what's in the bottle.
So am I.

---
Grape Types in Beaujolais
You may already know that most wines are produced using a blend of different types of grapes for pressing together in very precise proportions. For Beaujolais of all types, the "cépage" or type of grape is Gamay, with a twink of Chardonnay thrown in on the side.

---
Why does each Beaujolais taste different?
Partly because of the mineral content of the specific batch of soil on which the grapes grow, partly because of the amount of sunshine and rainfall the plants receive. This depends on which side of the hill they grow on.
Even more significant is the expertise of the resident oenologue. He or she, works the magic, blending this and that and deciding on how long to let the mixture ferment the first time in vats, and the second time in casks, before bottling and ageing.

---
By now you might be thinking I'm pretty smart or at least that I know a bit about this subject. Thank you.
Still, I must confess, I picked the brain of a friend of mine, a true connoisseur: Mr Ben-David. He went into quite a lot of detail, so much so that I was tempted to take notes. But as we were drinking wine at the time, I had neither pen nor paper to hand.
Not surprisingly, much of the minutae was forgotten. So, I resolved to ask again over coffee the next morning, when it was somewhat easier to remember the conversation.

---
So for Beaujolais Nouveau...
As for Beaujolais Nouveau, this is the fresh, only fermented one time, very young wine, harvested just two months before bottling.
For this reason, Beaujolais Nouveau is light and fruity tasting, sometimes described as tasting of bananas or kiwi fruit.
However, the alcohol content is quite high, and overindulgence will kick you in the teeth, making you regret the arrival of the infamous morning after.
This refreshing taste leads to rampant absenteeism the third Friday of every November.
---
This Year's Beaujolais Nouveau Wine Tasting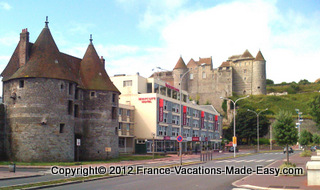 This year, the Mercure La Présidence, a four star hotel located beachfront in Dieppe (seen in the picture to the left), hosted a wine tasting on Thursday, November 17th. I attended. Yay. And yup, that's me - second from the left in the picture below.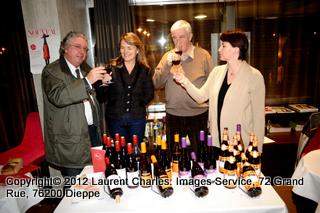 Hors d'oeuvres were served and a spitting bucket provided. The "Maison Olivier", founded three generations ago, and now run by Bénédicte (that's her accompanied by her papa on the right), a friendly young woman who knows her stuff, inherited from her father and grandfather before her, supplied four different types of Beaujolais nouveau. One of these was selected for sale in the hotel restaurant.
Bénédicte opened several bottles of each sort and the "degustation" began. Savory nibbles were passed around and lively conversation regarding the merits of this year's crop abounded.
The hors d'oeuvres trays emptied and the spitting bucket remained empty. True to my expectations, the wine was fruity and light, and deserved swallowing.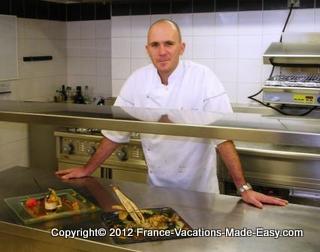 For those who chose to stay over, the chef at the hotel restaurant concocted a menu all around Beaujolais Nouveau. The starter was a potato and Morteau sausage pancake served with a Beaujolais based wine sauce. The main dish was a grilled salmon cutlet with steamed vegetables served with a Beaujolais Nouveau emulsion for dipping. Dessert was a pear poached in Beaujolais served with black currant ice cream.
As with this type of wine, this menu is "éphémère", or sadly temporary, lasting only the weekend following the Thursday launch.

---
And all good things come to an end...
The sale and consumption of Beaujolais Nouveau lasts only for a few weeks, leaving only memories behind by the time Christmas rolls around.
As with most trends, "nouveau" grows old rather quickly….

---
Return to What About Wine? from Beaujolais Nouveau

Return to France Vacations Made Easy Home Page