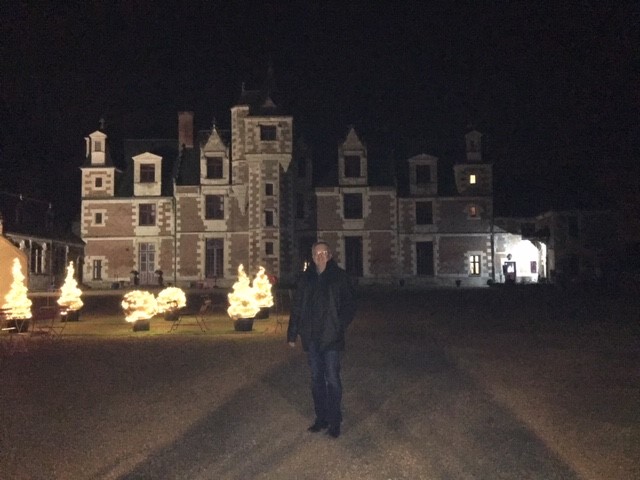 Day 1: Saturday, December 29
Patrick and I are staying here:
The Chateau De Jallanges, in the Renaissance bedroom. They've got 5 guest rooms and 3 guest apartments, and an indoor pool, in which I'm planning to have a dip tomorrow.
Jallanges is practically adjacent to Vouvray which is practically adjacent to Tours: the base for many travelers to France's most impressive Loire River Valley with its history infused Renaissance castles.
The 16th century French equivalent to jet-setters fled the city for the countryside once lovely residences such as the one behind Patrick sprang up in response to Francis the 1st's interest in hunting. The lure of elaborate parties brought his court west to this game-filled hunter's paradise.
 They needed somewhere to sleep. So did we.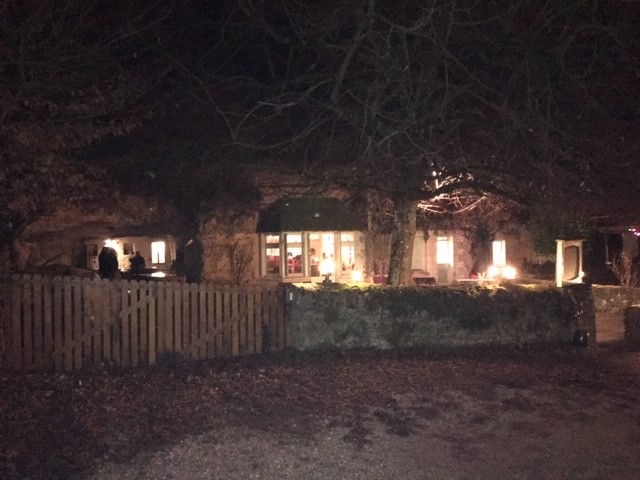 We also needed to eat once we checked in. Like most B and B's (yes, this is a French B and B!!!!) there isn't a full-service restaurant on site. Luckily, we drove here in Patrick's car and were able to zip down into the town of Vouvray for a meal.
Like any other tourists, we enjoyed a half bottle of champagne in the room's fridge while perusing restaurants in the local guide provided in the room. We chose Les Gueules Noires just about 3 miles from our guest house. The advert said it was a troglodyte restaurant. Now, who wouldn't be intrigued by that?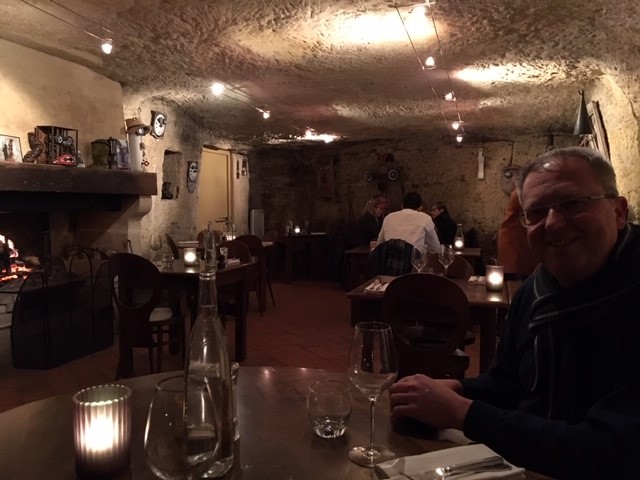 So, we settled in at this table in a building dug out of the chalk hillsides so well known for their naturally cool wine cellars. Since it's a winter evening, an open fire is crackling away, making snapping sounds much like applause to the lyrical descriptions of the dishes on offer. Poetry in our plates, Patrick and I slurp up the warm oysters with pork rillettes decorated with tiny beads of Banyuls wine, and freshly fried accras. Our main dishes were fabulously tender pork medallions and a veal steak so tender it literally melted in my mouth. Washed down with a bottle of local red wine: a Saumur Champigny Chateau Yvonne, our evening meal finished with a lemon tart for me and a crème brulée for Patrick.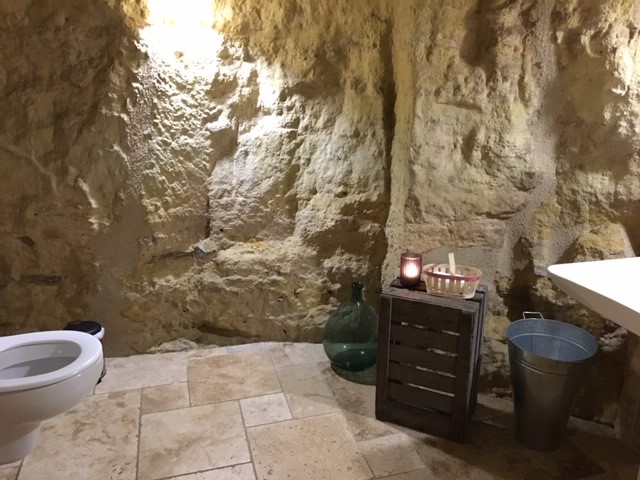 I couldn't resist taking a photo of the restroom: dug out of the limestone cave, because how often do you get to use a restroom in a cave?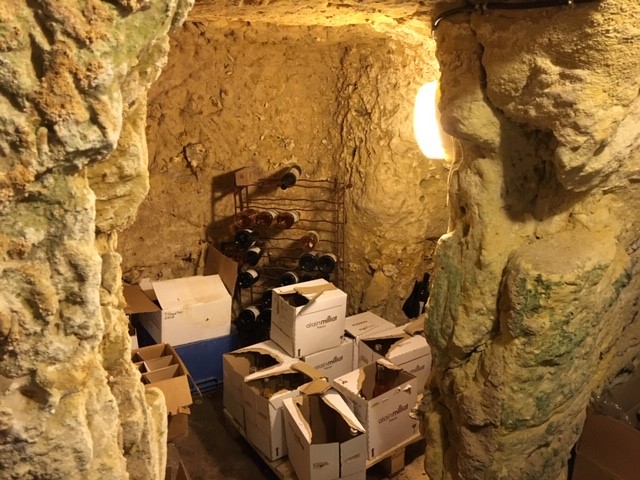 Speaking of caves, the wine cellar, underground of course, was opened up for us to have a quick visit by the owner. Down a few steps we entered a quaint vaulted space piled high with empty crates, proof that we aren't the first to enjoy the bottles on offer here. A little farther down the hall a simple wooden door leads to the bulk of the stock. An Ali Baba's cavern of wonders!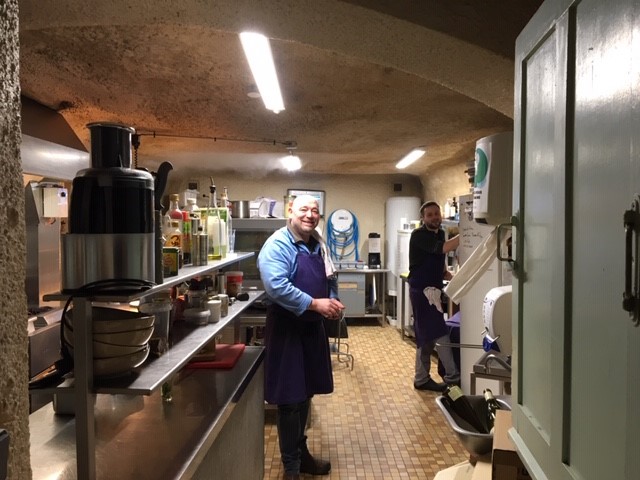 On the way out we were treated to a kindly hello from the kitchen staff as they were cleaning up and closing down for the night through a double door.
Impressively spotless and shiny for a kitchen in a cave, this team provides an experience unlike any other.