Christmas in France
It's Christmas!
These three words bring to mind specific images for about ¾ of the world's population and quite possibly more than that. Some of them cause wistful smiles of nostalgia, joy, or even sadness.
I think: family, snow, wrapping presents, twinkling lights, red/green/gold decorations, traditional over-eatable food, midnight church services, caroling, laughter and that warm fuzzy feeling that comes from gathering your loved ones around you.
All fairly basic impressions of the holidays, it would seem. It's the variations on these themes that are noticeable from one country to the next. France has its share of odd ones.
---
Le Bois Hulin
Last evening, on the way back from dropping off Mamie and Papy (these nicknames are the equivalent to Grammy and Grampy, in French, pronounced "Mah-mee and Pah-pee"), to their home about 10 miles distant from ours, after Christmas Day dinner, we detoured off into the tiny hamlet of Le Bois Hulin (map).
I'd been hearing about this little place for about 7 years now and never had the chance to evaluate its claim to fame. Apparently, I was the only inhabitant of Normandy having failed to do so, since the item on the national news channel some 5 years ago. It was high time to eradicate this small morsel of ignorance.
The news reporter had praised the hard work and enthusiasm of the local inhabitants of the hamlet: comprised of about 30 houses in all. Their efforts at physically manifesting the Christmas spirit had taken on proportions unheard of in the entire country.
I was expecting too much possibly, considering the national news coverage, but what I found was nevertheless surprising.

---
Decorations in France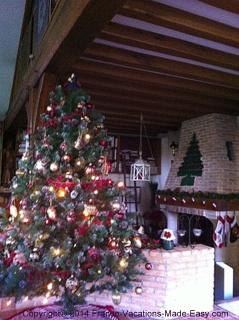 First of all, you must know that Christmas decorations are rather low key in France. Everyone has a decorated tree, quite often a real one, and most people do a little decorating of the remainder of the room the tree is in.
For example, real holly and evergreen boughs are strung along the mantel piece and some mistletoe bunches placed here and there. The greenery isn't overwhelming since French housewives have long ago discovered the terrible reality of trying to extract pine needles from tiny bare feet, dog paws and carpets.
The flowers most often associated with Christmas are hyacinths, forced to bloom early, set in clay pots of three or five bulbs, to diffuse their intoxicating perfume throughout the house. It's practical, since you can plant the bulbs outside at the first thaw and they'll bloom again shortly afterward.

---
But what about Poinsettas?
Stubborn being my middle name, I tend to hunt down my traditional favorite: the poinsettia, just now becoming more widely available in garden centers throughout France.
Invariably my poinsettias either die three days later or the more expensive versions who actually survive, never again bloom at the correct time of year. I had a lovely poinsettia from last year which bloomed all summer long in my kitchen, looking slightly out of place.
My Grandma was the only human I knew who could get it right. She used to put her plants to bed every night in the closet and keep them in the basement throughout the summer. Come Christmas day she'd have a display of every poinsettia ever given to her along the window sill, each in perfect blooming phase. I'm afraid only retirees can claim such devotion to poinsettia care. However, I know that it can be done, thanks to Grandma.
The poinsettia care gene having obviously skipped me, I almost always have to throw mine out along about February.
Still, I do replant the hyacinths in front of the old sheep shed, where some of them very graciously re-bloom.

---
Christmas Lights!
As for the twinkling lights in the towns and villages of France, municipal workers suspend lighted decorations from lampposts and across pedestrian streets year after year. Invariably these are shaped like comets or candles, and the banner type ones say "Joyeuses Fêtes".


Parisians love to drive along the Champs Elysées at night where the tree lined boulevard is decorated with white fairy lights and lighted icicles hanging from each and every tree.
The big department stores boast animated decorations which scores of families ooh and ahh over during the entire month of December.
Smaller town shops are decorated with greenery bunches of hanging baubles and bows. Some frost their windows with fake white goo, writing festive messages to the passersby. Bonnes Fêtes! and Joyeux Noël being the general sentiment expressed, since "please come buy all your presents here" would be considered bad form.

---
Christmas Eve
New Year's Eve festivities are just as important as Christmas ones, sometimes even more since they're reserved mostly for friends gathering, and partying, whereas Christmas Eve is family time.
Fewer and fewer people actually attend midnight mass, even though France is a mostly Catholic country. A very small percentage of the population is praticant, meaning they're believers, they just don't go to church. Baptisms and funerals draw the biggest crowds in churches. Easter is the religious holiday which brings in the largest number of believers for an actual service.
Yet, you cannot accuse the average French person of being agnostic. They resolutely defend their right to not go to church, except when a baby is born. Apparently, it depends on the baby.
The problem seems to be in the scheduling. Christmas Eve service conflicts with the family present opening/festive meal gathering. You don't mess with a festive meal here. Its importance is unparalleled.
The birth of Jesus is celebrated in a more private way, while eating. This is done on the 24th in France, the 25th being of very little importance. Any celebratory things done on the 25th are quite often the result of the in-law phenomenon.


This raises the question of another weird tradition, Santa Claus, or the Père Noël. He's a scary looking chap with a floor length robe of red and a pointed hood which covers most of his face. His outfit looks much more like that of the grim reaper to me, sans the scythe. Kids are mostly fearful of him and so am I. I'm not even sure I'd take the candy he's handing out, afraid it would be poison or something equally awful. He also has some very strange habits.
During the Christmas Eve family gathering, he somehow shows up when everyone is in the bathroom, which is in itself quite a feat, and puts the presents under the tree. The kids are more than happy to go hide in the bathroom, since he's such a creepy fellow that they don't want an extra glimpse of him if it's not necessary.
This breaks up the evening, providing a little frightening of the children before sitting down to embark on a meal which has at least 5 courses and lasts for about as many hours. The kids are expected to hang in there as well, and threats of bringing back the Père Noël/Grim Reaper keep everybody in line. I invariably end up with a horrible case of numb-bum and fidget in the most undignified fashion after the second appetizer.
It is followed by the trou normand which is calvados drenched apple sorbet. Calvados is a locally produced burn-your-throat-stomach-and-intestines-apple based hard spirits which literally produces a hole/le trou in every Normand stomach I know. Its ingestion conveniently burns a hole in all the previously ingested food, making room for the meat, cheese, salad and dessert courses yet to come.
Things draw to a close about 3am when everybody crawls home with severe indigestion and lots of presents.
You get to start all over again about 1pm the next day to enjoy the gift giving with the other half of the family, the in-laws or the step-parents depending on which modern type family situation you come from.

---
Back to Bois Hulin...
It was after this abuse of my digestive system that we decided to go for a little jaunt around the village of Bois Hulin, hoping that some fresh air and light exercise would work better than the calvados did.
It was brisk and dry with the remains of a light covering of snow. In sum, perfect for an early evening stroll. I was lighthearted with childish anticipation.
Being American, and a Michigander, I have a slew of nice memories of twinkling fairy lights outlining window frames on the homes of Bay Citians. Lots of folks decorated the fir trees in their front yards with strings of lights and red foil bows. Most front windows had a sort of electric candelabra and every front door boasted an evergreen wreath. I was expecting as much from the Bois Hulinians.
When we got close, we were informed via a twinkling light sign stating "Bois Hulin Deco 1km" that we still had a kilometer to go before being swept away by the Christmas spirit. The sign was unnecessary. From a kilometer away, which is roughly 2/3rds of a mile, we could see the sky lit up with a festival of multi-colored lights. We drove closer and parked the car.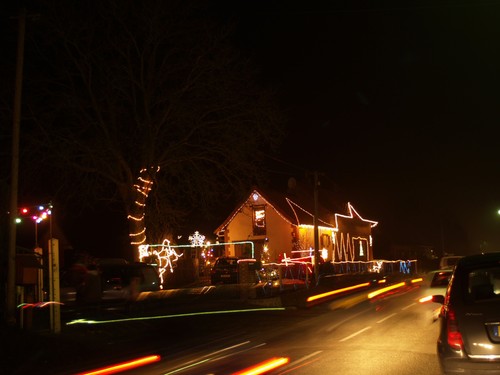 The bad taste fairy had alighted in Bois Hulin and taken up residence. Gazillions of garishly animated decorations wiggled on every inch of lawn in front of about 75% of the 30 or so houses.
Life-sized mannequins of Père Noëls stood on about half of the front yards, dressed in cloth costumes surrounded by lighted shaped reindeer and foxes. What the foxes were doing there had me stumped. There were also rabbits, gnomes, snowmen, fairies, bells, giant presents, bears, horses and only one manger scene.
Creatures of every sort seemed to chase each other around every lawn there. Every bush, tree, fence, lamppost, window, door frame and roof line was dripping blinking lights.
The electric company must be jubilant. I wondered how anybody got any sleep. The night sky was brighter than Las Vegas. The other 30% of the homes were dark and seemed to look down their eaves troughs at the spectacle with some amount of shame.
The question which came to mind as we rounded the last corner and came upon a particularly astounding animated yard was, "Why? Who started this orgy of ridiculousness? Had a local supermarket put the DVD of the Griswolds' Christmas exploits on sale about 8 years ago? Had they missed the joke and thought it was the cool thing to do?"
The French are usually so comforting in their avoidance of going overboard on anything at all except food, that this display shocked my American self. When they watch news reels of the pig hollering contest that takes place in Tennessee or wherever it's held, the French smirk at the silly Americans and their obvious lack of restraint.
Yet here, in front of me was the goofiest display of holiday spirit I have ever contemplated. Each neighbor doing his best to out-do the other in the worst way. Typical Griswold stuff! There's something mildly disturbing in this.

---
Tiny Twinkle!!
Much bemused head shaking later, we made our way back to the car and drove home with spots in front of our eyes. I came home and unplugged the tree looking for some peaceful darkness. I'd had about all of the twinkle my brain could stand for the rest of the year.
Next year, I won't go back. I'm hoping the DVD of Dr Seuss' "The Grinch" will go on sale sometime between now and then. Maybe a different message will be sent regarding the Christmas spirit. The electrical company will be greatly disappointed, but the wildlife will be able to get some sleep.
Bah, humbug?
No, Merry Christmas with a tiny twinkle!

---
Return to American in France from Christmas in France

Return to France Vacations Made Easy Home Page