The History of Aeropostale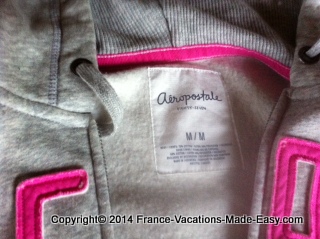 What's behind the popular clothing brand "Aéropostale" (or Aeropostale)?
Obviously there's a French origin.
And thanks to the popularity of the brand name, teens and adults in the USA can add another word to a list of recognizable foreign language vocabulary. Aeropostale can sit next to rendez-vous, cul de sac, n'est ce pas, je ne sais quoi, and a string of other terms with which savvy conversationalists pepper their enlightened discussions.
All of this is fine and dandy, and makes us feel rather smart, except when you start wondering about the origins of the labeled hoodie sweatshirt I'd recently purchased for my daughter.
I discovered where the brand name came from quite by accident.
---
Well, to be honest Cupid, once again, stepped in to teach me a thing or two.  This time, it was about "Aeropostale".
I went on a weekend getaway to the invasion beaches in lower Normandy, to the home of a very good friend of mine. No, I'm not going into any details.
Anyway, during a long romantic walk along the beach I came across this sign to the right. 
---
Admiral Byrd in Normandy?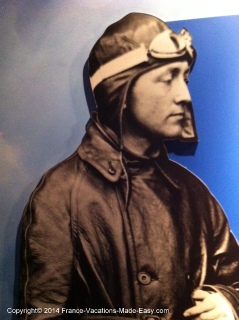 I remembered learning, I don't know where, probably in high school history class, that Admiral Byrd led expeditions to the both the North and South Poles. It was amazingly difficult and he wore a fur parka and heavy boots in black and white photographs.
These impressive details pretty much sum up my knowledge of Admiral Byrd. Imagine my surprise when I came across that sign on a stretch of French sand known as Gold Beach, so famous for another event some 17 years later: D-Day.
Gold Beach was the landing site for the British. They were squished between the Canadians landing on Juno Beach and the Americans landing on Omaha Beach. The British dragged dozens of huge barges previously assembled in England over a hundred miles away, through rough seas to be anchored into place making up the artificial Mulberry port, invented by the British Corps of Royal Engineers.
That accomplished, they played soccer with the locals. Honest.
---
The Origin of Aeropostale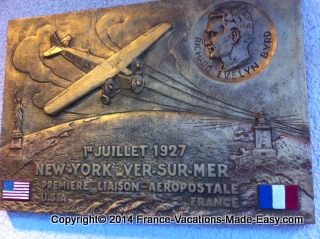 Before that, in 1927, an airplane made an unexpected sea skid, (because it can't be called a landing now can it?) in which no one was badly injured and the first bag of mail reached France from the USA via airmail. The plane was named the "America" and it was piloted by our favorite pole explorer: Byrd.
He'd been part of a race across the ocean to get a transatlantic flight route established. Eighty-two previous attempts had been made by teams from diverse nationalities hoping to take home a trophy purse containing $25,000, which was a considerable sum of cash at the time.  The winner was Charles Lindbergh in the "Spirit of Saint Louis". Still, not one to be put off by losing $25,000, our Admiral Byrd accepted the mission to accomplish the very first mail delivery for a company named "l'Aéropostale".
On June 29th, a team of four: Byrd, a co-pilot, a radio operator and a mechanic set off from Roosevelt field in New York to cross the Atlantic west to east aboard a German manufactured Fokker aircraft. Forty-two hours later, the crew ran into trouble at the destination. Paris was enshrouded in a thick fog. Having no instruments to rely on, they flew by sight. This caused them to change course, looking for somewhere visible to land. Running low on fuel, they turned back to the last place they'd seen lights of any kind: coastal lighthouses.
---
The First Aeropostale "Service"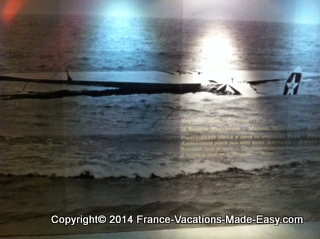 A smooth flat beach would have been ideal. But first they had to clear the cliffs south of Le Havre, and locate a wide stretch of beach in the dark. On July 1st, they crashed into the sea some 300 yards off the shore of the tiny town of Ver-Sur-Mer, home of my sweetheart.
It was a soft sort of crash and while it broke parts of the plane, the crew had time to blow up the rubber dinghy, throw the bag of mail and an American flag into it, and paddle off toward the shore, where they went house to house until they found someone willing to open up to four, unshaven, dripping foreigners in the middle of the night. They'd been deafened by the engine noise of the 42 hour flight, and I can only imagine the surprise of the lighthouse keeper who finally opened up when they shouted at him in English, gesturing to illustrate an inconceivably wild tale. Still, this being France, they were supplied with a hot meal and wine at 4am. When low tide came about, they made off to retrieve what they could from the plane dressed in clothing borrowed from the smallish lighthouse keeper. When they got there, the locals were already at work checking out the remains. Some bits and pieces were never recovered. Coastal fishermen rise early.
Later in the day, a truck drove the post bag off to Paris by road and Byrd wired a message back home stating: "Dark night forced landing unavoidable…Will report details…Byrd". A day of rest and celebrations later, the crew headed for Paris to officially party with the American ambassador and other American and French government officials. The airmail service "l'Aéropostale" was born.
---
But the clothing line "Aeropostale"?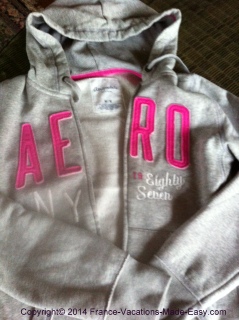 Just how this infamous mail service morphed into a driving force behind a brand of sportswear, keen to seduce the American teenage market and succeeding very well at doing so, is beyond my capacity for guessing.
I'm certain Admiral Byrd would be the first to be shocked to see the word "Aeropostale" embroidered across the stretch panted bottom of a high school girl. Not that he'd be upset about it, but most curious. If he chose to ask her what the embroidery on her bottom referred to, I'm afraid to think what she might respond.
And until not very long ago, I might have gotten the answer wrong myself. 
---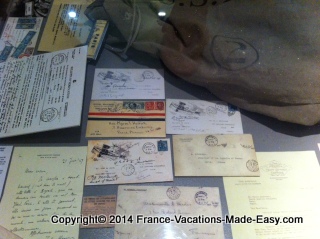 There's a wonderful little museum about this subject in the town hall/tourist office in Ver-sur-Mer.
The Musée Gold Beach is open regularly between April 1st and October 1st, and on every day in July and August. Groups can book tours throughout the year simply by phoning for an appointment at +33 231 225 858.  
Here is their website:  http://www.goldbeachmusee.org.uk/ 
Ver-sur-Mer is located between Caen and Arromanches, right on the water, along the coastal drive leading visitors through the invasion beaches.
The nominal entrance fee is well worth it. The museum groups the Aeropostale theme with the history of Gold Beach on D-Day. The curator is a lovely man who will give you much more information in either English and/or French than one human could ever absorb in the hour it takes to tour the museum. But you'll walk out with a new perspective on how your postcard gets sent back home.
---
So you see? It's a good thing I live in France. 
---

Return to Normandy Sights from Aeropostale 

Return to France Vacations Made Easy Home Page